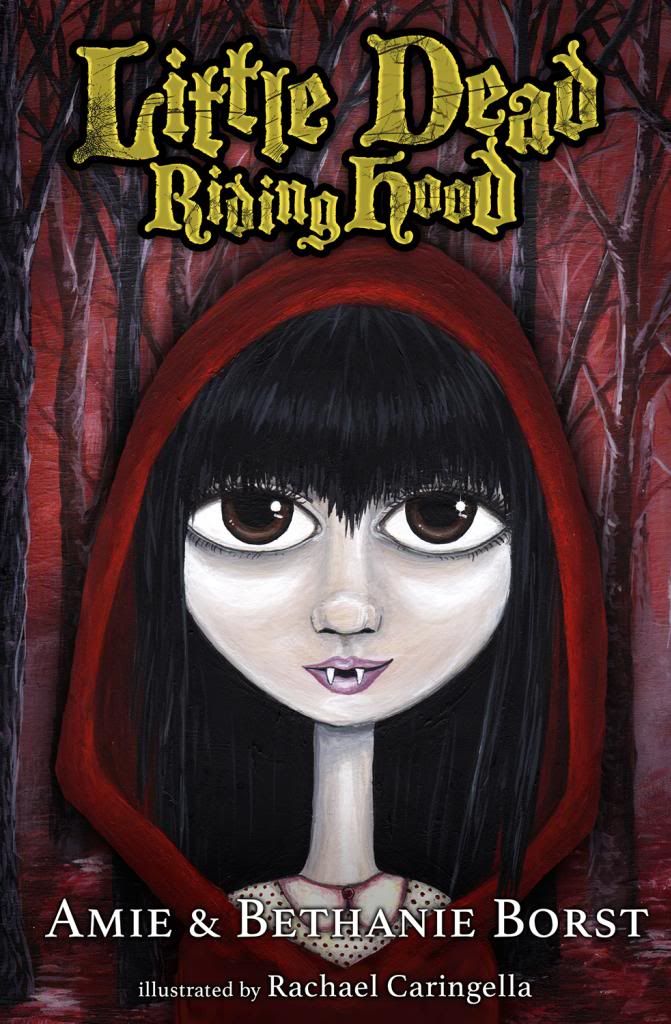 You know things are going to suck when you're the new kid. But when you're the new kid and a vampire… well, it bites!
Unlike most kids, Scarlet Small's problems go far beyond just trying to fit in. She would settle for a normal life, but being twelve years old for an entire century is a real pain in the neck. Plus, her appetite for security guards, house pets and bloody toms (tomato juice) is out of control. So in order to keep their vampire-secret, her parents, Mort and Drac, resort to moving for the hundredth time, despite Scarlet being dead-set against it. Things couldn't be worse at her new school, either. Not only does she have a strange skeleton-girl as a classmate, but a smelly werewolf is intent on revealing her secret. When she meets Granny—who fills her with cookies, goodies, and treats, and seems to understand her more than anyone—she's sure things will be different. But with a fork-stabbing incident, a cherry pie massacre, and a town full of crazy people, Scarlet's O-positive she'll never live to see another undead day.
Not even her Vampire Rule Book can save her from the mess she's in. Why can't she ever just follow the rules?
Today, we welcome Amie Borst to the blog for an interview! Take it away Amie!
Did you always know you wanted to be a writer or did you want to be something else?
I've been a musician for as long as I can remember.

It's deep in my blood. So I always knew that I'd do something in the music biz. But, although writing is in my blood, too, I never thought I'd be an author. As a child I wrote lots of stories and poems, so I should have known the writing bug was there! It wasn't until 2008 that I realized I had to live up to the call of my high school and college English teachers.

I just HAD to write!
Do you have a schedule of when you write?
Not really. Though I find I'm most productive from 12-3 in the afternoon.
How are you able to balance other aspects of your life with your writing?
What was the hardest thing about writing a book?
How many books have you written so far? Do you have a favorite?
I've written 8 picture books, 1 chapter book, 2 middle grade and 1 young adult (though I have 3 works in progress that I hope to finish soon). My first published book, Cinderskella, will always have a special place in my heart. But books are like children, I try not to have favorites
J
It's terrible, but I write in my dining room. While we have a home office, it's over run by a husband and three kids all vying for the use of the computer. The dining room has great lighting, a workspace and all my equipment (story boards, printer, a laptop). In fact, if it weren't for the formal table and chairs it wouldn't look much like a dining room at all. Maybe I should just convert the space…now that would be a dream!
When deciding on how to publish, what directed you to the route you took?
Oh boy. This is a hard one. Since my books in the Scarily Ever Laughter series (Cinderskella and Little Dead Riding Hood) are co-authored by my 13 year old daughter with ASD (Autism spectrum disorder) it was difficult to find an open minded agent. Once I started querying small presses, I found they were not only open minded, but so passionate about our book and empowering my daughter, that I knew I'd found the perfect home for our stories.
Have you gotten feedback from family about your book(s)? What do they think?
Well, of course my family loves my books. They know I'd write them into a story and let them die painfully if they did anything contrary to praising it! I'm kidding, of course. Unfortunately, I hardly think my family would be objective, even if they wanted to. My co-author on the other hand quite frequently tells me when a plot point or a scene sucks. Thank goodness I have her to set me straight!
What kinds of things do you like to do outside of writing?
I love music. I sing, mostly, but I also play the piano and flute. There's a thrill of being on stage, too, so performing in musicals is something I really enjoy.

I also enjoy crafts and cake decorating.
Are you working on anything now?
I am! My co-author and I are working on book three, Snow Fright. But I'm also hoping to finish up a few YA manuscripts. One is a gothic psychological thriller, the next is a post-apocalyptic horror and the last is my very first book that I wrote, a paranormal romance (no vampires though, it's about reincarnation) which needs a major rewrite.
Thanks so much for stopping by today, Amie! So great to have you here! Good luck with your book!
Amie Borst is a PAL member of SCBWI. She
believes in Unicorns, uses glitter whenever the opportunity arises, accessories in pink and eats too much chocolate.
Bethanie Borst is a spunky 13 year old who loves archery, long bike rides and studying edible plant-life.
Little Dead Riding Hood is their second book in the Scarily Ever Laughter series. Their first book, Cinderskella, released in October 2013 and has been nominated for three awards.
To celebrate the cover for Little Dead Riding Hood, Amie is giving away a $25 Amazon gift card! Just fill out the Rafflecopter form below. The more ways you share, the more points you earn! a Rafflecopter giveaway