Today we are super excited to welcome Joelle Charbonneau!
Joelle has written a great dystopian YA trilogy! Check it out!
Keep your friends close and your enemies closer. Isn't that what they say? But how close is too close when they may be one in the same?
The Seven Stages War left much of the planet a charred wasteland. The future belongs to the next generation's chosen few who must rebuild it. But to enter this elite group, candidates must first pass The Testing—their one chance at a college education and a rewarding career.
Cia Vale is honored to be chosen as a Testing candidate; eager to prove her worthiness as a University student and future leader of the United Commonwealth. But on the eve of her departure, her father's advice hints at a darker side to her upcoming studies--trust no one.
But surely she can trust Tomas, her handsome childhood friend who offers an alliance? Tomas, who seems to care more about her with the passing of every grueling (and deadly) day of the Testing. To survive, Cia must choose: love without truth or life without trust.
In the series debut
The Testing
, sixteen-year-old Cia Vale was chosen by the United Commonwealth government as one of the best and brightest graduates of all the colonies . . . a promising leader in the effort to revitalize postwar civilization. In
Independent Study
, Cia is a freshman at the University in Tosu City with her hometown sweetheart, Tomas—and though the government has tried to erase her memory of the brutal horrors of The Testing, Cia remembers. Her attempts to expose the ugly truth behind the government's murderous programs put her—and her loved ones—in a world of danger. But the future of the Commonwealth depends on her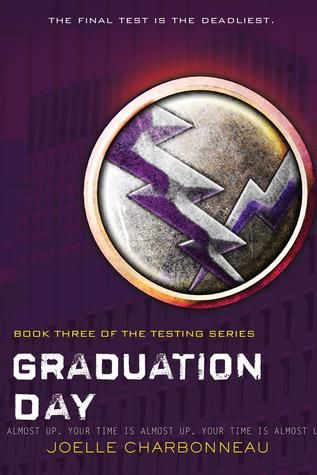 In book three of the Testing series, the United Commonwealth wants to eliminate the rebel alliance fighting to destroy The Testing for good. Cia is ready to lead the charge, but will her lethal classmates follow her into battle?
She wants to put an end to the Testing
In a scarred and brutal future, The United Commonwealth teeters on the brink of all-out civil war. The rebel resistance plots against a government that rules with cruelty and cunning. Gifted student and Testing survivor, Cia Vale, vows to fight.
But she can't do it alone.
This is the chance to lead that Cia has trained for - but who will follow? Plunging through layers of danger and deception, Cia must risk the lives of those she loves--and gamble on the loyalty of her lethal classmates.
Who can Cia trust?
The stakes are higher than ever-lives of promise cut short or fulfilled; a future ruled by fear or hope--in the electrifying conclusion to Joelle Charbonneau's epic Testing trilogy. Ready or not…it's Graduation Day.
The Final Test is the Deadliest!
Welcome to the blog, Joelle! Tell us about you!
Did you always know you wanted to be a writer or did you want to be something else
?
I am always embarrassed to admit that I never thought I'd be an author. Growing up, I loved reading, but I never was one to write stories or dream of being published. Instead, I was a theater and music girl. My undergraduate degree is in music and theater and my Masters degree is in Opera Performance. For most of my 20s I sang and danced on stage. It wasn't until I was almost 30 that I had an idea for a book and decided to sit down and attempt to write.
How long does it take you to write a book from start to finish?
It depends on the book, but most of the time I can write the first draft of a novel in about 3 months. The shortest it has taken me is 8 weeks. The longest about 14 weeks. I don't go back and edit when I write. I write straight through and then hope that it sort of makes sense when I finally reach the end and go back to read and revise.
How do you come up with themes for your stories?
I tend to write what I know. Since I teach private voice students who are in the throws of the college admittance process, it isn't a surprise that I know about the stress and anxiety that goes along with getting into a top school. I tend to use the things I come in contact with as inspiration and write about them in order to find out what I really think about the things I have seen and/or experienced. So, I guess I am inspired by what I know and then write to understand the things I don't know about that subject. (Does that make any sense to anyone but me?)
Do you have a schedule of when you write?
I have a 6 year old at home that is in half day kindergarten. So, mostly my schedule revolves around him. That means there isn't a real routine. I try to get work done after I walk him to the bus and am able to do some business e-mails when he's home. Mostly, I work when he is unconscious (yay sleep!) or when my mother takes him with her to visit my grandmother in assisted living. Lucky for everyone, he loves those trips. So, there isn't a true schedule, but there is one thing that is certain – if I am writing a novel, I will write every single day until I have finished it. Even if it means staying up until 2 am to get words on the page.
How are you able to balance other aspects of your life with your writing?
Ha! You assume I can balance the other aspects of my life
J
I love my family. There is nothing more important than spending time with them. I also love my private voice students and I am willing to drop almost everything to answer questions or have an extra lesson when they need it. Writing is what I do and part of who I am, but while the people in my stories are a driving force in my life, the people whom I love are what makes life worthwhile. So, I guess balance is easier to find when you are around people and doing something that you love. (Except when a deadline approaches. If I'm running behind on a deadline then all balance goes out the window as does sleep!)
What elements do you think make a great story line?
Yowzah! That's a tough question. Well…strong, identifiable characters, a gripping theme and killer hooks. I really believe in stories that have strong hooks at the end of every chapter. I love when a story keeps me saying "Just one more chapter and THEN I'll go to bed."
What was the hardest thing about writing a book?
This is easy to answer. The middle. The middle of a book is the hardest part to write every single time. Starting a book is a true joy. The idea is fresh and new. The pages are blank. It's all about possibilities and fun. After a few chapters, I tend to leave behind the bubbly excitement that has driven me and suddenly the book feels like the worst thing that has ever been written in the history of ever. It is at that point that I am certain someone will realize I have no ability to write and kick me out of the club. Thankfully, the middle (while it feels terminally long and I often feel terribly stupid) eventually gives way to THE END. The minute I can see the light at the end of the tunnel and THE END is in sight, I forget about the terrible middle and just race for the finish line. There is nothing better than the feeling of crossing that line. It makes the self-doubt in the middle of the book worthwhile.
How many books have you written so far? Do you have a favorite?
Are we counting the unpublished ones? Hmmm…let's see…4 unpublished manuscripts that will forever remain unpublished. 1 unpublished adult thriller manuscript that my agent and I never got around to tweaking and might someday go back to for kicks. 7 funny adult mysteries, 3 books in The Testing Trilogy and I'm currently in the middle of my next project – N.E.E.D. So, if I'm doing the math correctly – 15 ½. And my favorite has to be Graduation Day – probably because I don't outline and wasn't sure how all the pieces in the series were going to fit together. It was fun to see how it all played out!
Do you have a favorite character?
So far, I think my favorite character to write has been Will in The Testing trilogy. He has lots of shades of gray that are really fun to explore. In my adult writing, my favorite is Paige Marshall from the Glee Club mysteries. She's a stage performer and I love being able to use my past experiences as a singer/actress to bring her to life.
Wherever I can. Honestly. Most days you'll find me typing away in my living room – I have an office, but I tend to use that for the businessy end and not the writing portion of my job. But it is not unusual to see me sitting with my laptop at the park while my son is careening down slides or at the community center room while he's in cooking class. I've also gotten pretty good at writing on planes or in hotel rooms.
When deciding on how to publish, what directed you to the route you took?
There were a few things that determined the path that I pursued when it came to publishing. One is my theater background. As an actress, I greatly respected the importance of a director's influence on a show. A talented director can pull an amazing performance instead of just a good one out of a performer. So, I always knew that if I published any of my books, I really wanted a strong editor to help me. Also, while I love the idea of self-publishing and e-books, I can't seem to read well on a screen. I can read a paper book start to finish in a few hours and retain everything I read, but when I read on a screen I seem to read much slower and my mind tends to wander. So, because of those two things, I opted to pursue a traditional publishing path, which involved finding an agent I clicked who in turn helped me find editors who liked my work. And trust me when I say, a great editor (one who is really hard on you and pushes you to be the best writer you can be) is worth his or her weight in gold!
Have you gotten feedback from family about your book(s)? What do they think?
Thankfully, my family all seems to love my books. Or if they don't, they haven't found a reason to burst my bubble. My entire family has been incredibly supportive and enthusiastic about every bump, turn and exciting dip in this journey.
What kinds of things do you like to do outside of writing?
Let's see…singing and reading probably wouldn't come as a surprise, but I love them. I also love to cook, watch sports and competitive cooking show, hang out with my husband and play with my son. Oh – and any excuse to chat with friends is also very welcome.
What kinds of advice would you give to someone who wants to start writing?
My advice is in three parts. 1) Read. Read critically. When you finish a book ask yourself why you did or didn't enjoy it. Then go back and look at those parts to see what the author did that made you react that way. 2) Write every day. Keep the story moving forward. Resist the urge to go back and polish otherwise the story will never get finished. 3) Get to THE END. The most important thing you can do is finish what you start. Trust me! All authors think their book is terrible at some point in the process. That's when many writers give up. Forge on. Get to The End. Even if the book isn't the book you want to publish you will have taught yourself that you can scale the mountain of self-doubt and middle malaise and get to the other side. That way the next time you write and you get to that section, you'll be able to draw from past experience and get through to The End again. When you're on deadline, knowing you can get to The End is the most important tool you can have in your arsenal.
What is your favorite book? favorite author? Do you have an author that inspired/inspires you to write?
I never have a good answer to this question. I love lots of genres and lots of authors. My favorite book growing up was The Lion, the Witch and The Wardrobe. I still love that book and check wardrobes when I pass to see if there is another world located somewhere beyond. And just about every author inspires me in some way. Lois Lowry, Nora Roberts (aka JD Robb), Stephen King, David Eddings, Brandon Sanderson, Harlan Coben, Janet Evanovich and so many more….The stories they tell are just amazing and I am honored to be allowed to be part of the club.
Do you have any go to people when writing a book that help you with your story lines as well as editing, beta reading and such?
My husband used to always be my first reader. I also have a student who is in her senior year of college who has read some of the early drafts of my work. But my main and most constant source of editing, beta reading and brainstorming is my agent, Stacia Decker. The Testing is dedicated to her for a reason. She is awesome!
Are you working on anything now?
I am! I'm currently working on a stand alone YA thriller that takes place in a small Wisconsin town and follows a group of students invited to join an elite social networking site. The book is entitled N.E.E.D. and I can't wait to see how the whole story plays out!
Thanks so much for stopping by today, Joelle. Good luck with the release of GRADUATION DAY! Looking forward to your YA thriller for sure!
Joelle has generously offered a giveaway with her interview. Entrants can win a signed copy of either THE TESTING or INDEPENDENT STUDY (winner's choice) plus swag! Scroll down to enter through the Rafflecopter!
I am a storyteller at heart. I have performed in a variety of operas, musical theatre and children's theatre productions across the Chicagoland area.
While I'm happy to perform for an audience, I am equally delighted to teach private voice lessons and use my experience from the stage to create compelling characters on the page. I am the author of the Rebecca Robbins mystery series (Minotaur Books), The Paige Marshall Glee Club mysteries (Berkley) and The Testing YA triology (Houghton Mifflin Harcourt).
a Rafflecopter giveaway