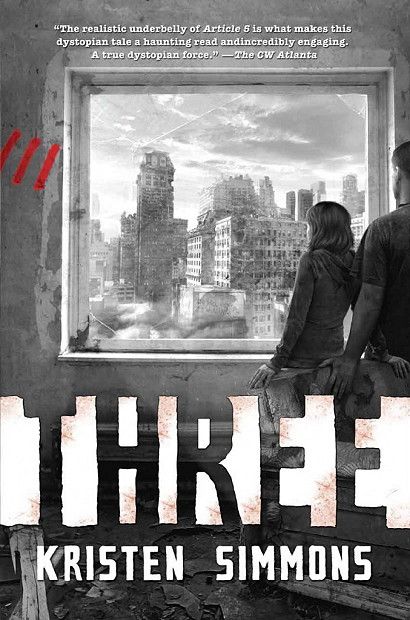 Kristen Simmons' fast-paced, gripping YA dystopian series continues in
Three.
Ember Miller and Chase Jennings are ready to stop running. After weeks spent in hiding as two of the Bureau of Reformation's most wanted criminals, they have finally arrived at the safe house, where they hope to live a safe and quiet existence.
And all that's left is smoking ruins.
Devastated by the demolition of their last hope, Ember and Chase follow the only thing left to them—tracks leading away from the wreckage. The only sign that there may have been survivors.
With their high profile, they know they can't stay out in the open for long. They take shelter in the wilderness and amidst the ruins of abandoned cities as they follow the tracks down the coast, eventually finding refugees from the destroyed safe house. Among them is someone from Chase's past—someone he never thought he'd see again.
Banding together, they search for a place to hide, aiming for a settlement a few of them have heard about…a settlement that is rumored to house the nebulous organization known as Three. The very group that has provided Ember with a tiny ray of hope ever since she was first forced on the run.
Three is responsible for the huge network of underground safe houses and resistance groups across the country. And they may offer Ember her only chance at telling the world her story.
At fighting back.
Today The Cover Contessa is excited to welcome Kristen to the blog for an interview! Take is away Kristen!
Hi Brooke! Thanks for having me!
1.
Did you always know you wanted to be a writer or did you want to be something else?
Well, when I was really little I wanted to be a professional hockey player. But then I realized I sucked at ice-skating so that was out. I wanted to be a mental health therapist too…and then I became one! Writing is actually my second career.
2.
How long does it take you to write a book from start to finish?
It depends. I wrote Article 5 fairly quickly (though I edited it for over a year). I usually do research for a while, think for a while, plot for a while, think some more, all before I actually sit down and start typing. Once that happens, maybe 6 or so months for a first draft.
3.
Do you have a schedule of when you write?
Ha! I used to! Now I have a toddler. I write during nap times or when he goes to bed. I do have a method for each session though – I like to start with what I wrote the previous day, review and do a little editing, and then move forward into the next section. It helps get my mind in the right place.
4.
How are you able to balance other aspects of your life with your writing?
Pretty well, I think. My husband is pretty understanding. My toddler, not so much, but he doesn't really get why anyone would stare at a Word document when they could be watching Elmo movies or banging on pots and pans. I guess what I should say is, they keep me balanced.
5.
What elements do you think make a great story line?
Suspense and kissing. But that's just me.
6.
What was the hardest thing about writing a book?
Cutting your favorite scenes. Oh, it's so sad to see them go! People always say, just keep them for later but I never find a place for them. Poor little scenes. So sad.
Hope your readers enjoy THREE, Brooke! Thanks for being a part of the blog tour!

Thanks so much for stopping by, Kristen! It was so great having you here!


Kristen Simmons has a master's degree in social work and is an advocate for mental health. She loves Jazzercise, her husband, and her precious greyhound, Rudy. Also chocolate. She currently lives in Tampa, Florida.
a Rafflecopter giveaway