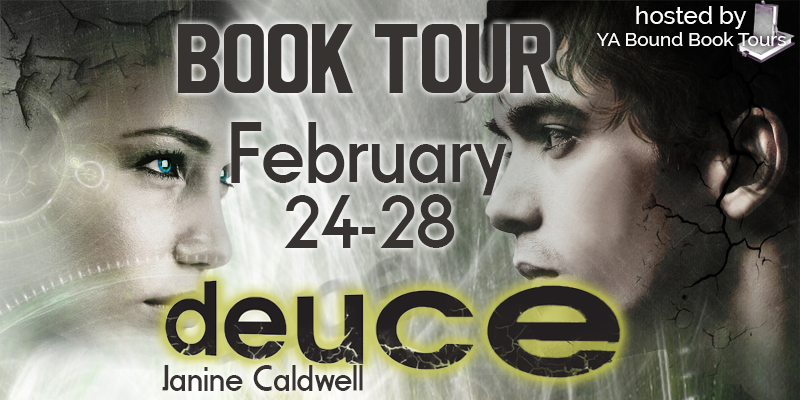 In an instant everything changes for seventeen-year-old Cassie Moore. Together she and her time-traveling boyfriend, Trent Astor, battle to survive their next impossible challenge. As they navigate through a third parallel world in which Cassie begged Trent to create for her, the two soon discover that no world can be made perfect.
And while they fight through their new circumstances, the universe may just have its own agenda for them both.
With DEUCE, the 3rd and final book of The Vortex Series, Janine Caldwell combines fantasy and romance to create a compelling love story of integrity and sacrifice.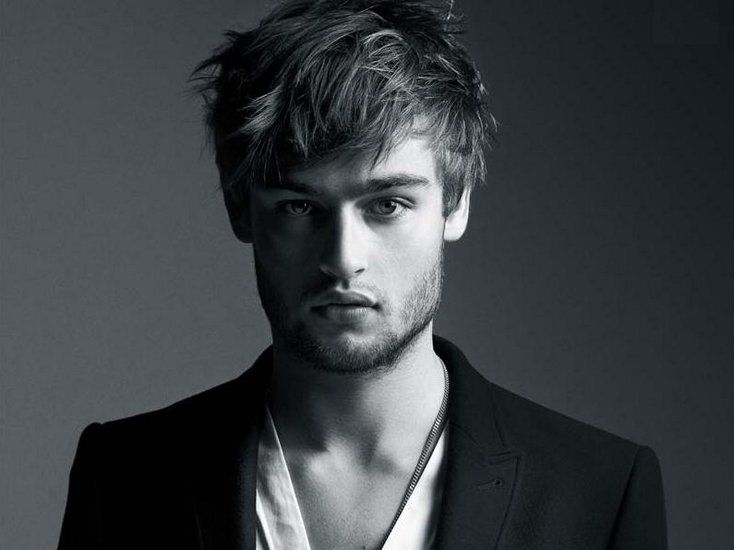 Meet eighteen-year-old Trent Douglas Astor, AKA Jeremy. He's the reluctant hero of this series with an extraordinary secret he must keep hidden from the world for his family's safety. This secret, involving a supernatural power, forces Trent and his stunning yet feisty younger sister, Lorelai, to be on constant alert, ready to run again. The orphaned siblings move every six months with a new identity so the ones after his power cannot find him. This makes teenage life almost unbearable. Lonely and ultra private, Trent knows making friends will only put them all in jeopardy. His saving grace is his love for his sister and his music. He's mastered the guitar and allows himself to perform with local rock bands as long as he keeps them at arm's length. Trouble is when you have a body and face like Trent, people tend to notice you. However, because of his powers, he knows a normal life will never be in his future. Allowing anyone, especially a girlfriend into his heart, is unthinkable.
Now enter the heroine of this story, Cassie Anne Moore. At eleven-years-old, Cassie was in a horrific shooting that tragically scarred her for life. The once promising tennis prodigy, threw all hope of a future in tennis away, unable to play again after her terrifying loss of innocence. Now as she enters her senior year of high school, she struggles to find herself, her self-esteem at an all time low. When Jeff Tanner, a football god at her school, wants to date her, she's thrilled until he begins to manipulate her and treat her altogether badly. If she could only somehow recover from her past, she may have a chance to get her groove back. She never imagined it could be possible, though, until she meets Jeremy, the strangely familiar and gorgeous new student in her PE class.
Janine Caldwell was born in Concord, CA and raised in the small San Francisco Bay Area town of Clayton. Four days after high school graduation, Janine attended California Polytechnic State University, San Luis Obispo and graduated with a degree in English.
Janine now lives in Anthem, AZ with her husband and two sons. As a lifelong literature fanatic, she knew it was only a matter of time before she would become obsessed with writing her own work. With relatives like the Brothers Grimm and Anita Loos (Gentlemen Prefer Blondes), she figured fantasy writing had to be in her DNA.
Books published by Janine include Visited, a YA coming-of-age fantasy, Rematch andDouble Fault–the first two books of The Vortex Series. The final book in this YA fantasy romance, Deuce, will be released soon.

Author Links:
a Rafflecopter giveaway