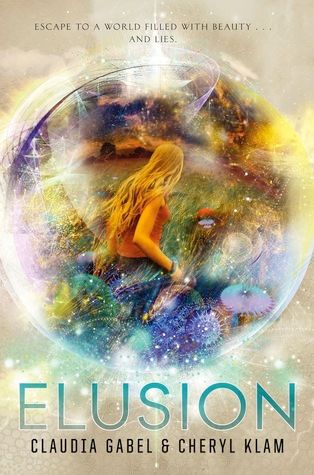 Blurb from Goodreads:
Soon, Elusion® will change the world and life as we know it.
A new technology called Elusion is sweeping the country. An app, visor and wristband will virtually transport you to an exotic destination where adventure can be pursued without the complications—or consequences—of real life.
Regan is an Elusion insider. Or at least she used to be. Her father invented the program, and her best friend, Patrick, heir to the tech giant Orexis, is about to release it nationwide. But ever since her father's unexpected death, Regan can't bear to Escape, especially since waking up from the dream means crashing back to her grim reality.
Still, when there are rumors of trouble in Elusion—accusations that it's addictive and dangerous— Regan is determined to defend it. But the critics of Elusion come from surprising sources, including Josh, the handsome skeptic with his own personal stakes. As Regan investigates the claims, she discovers a disturbing web of secrets. She will soon have to choose between love and loyalty…a decision that will affect the lives of millions.
Suspense, thrills, and romance fuel this near-future story about the seductive nature of a perfect virtual world, and how far one girl will go to uncover the truth behind the illusions.
The Cover Contessa's Review:
I want to thank Katherine Tegen Books (Harper Teen) and Edelweiss for providing me with an ARC of this book to read and give an honest review. Receiving this book for free has in no way altered my opinion or review of this book.
First I have to say that just by looking at the cover of this book I wanted to read it! The colors, the way the girl is presented and just the overall feel really drew me into it. And since I have been on a bit of a sci-fi roll, I was ready to jump into this technology driven story for sure!
Regan is a great character. She's truly strong and snarky. I love how she's not afraid to do things, try things, find out why things are the way they are. Things don't seem to scare her as they should. Whether or not that's good or bad, well, I'll leave that to you to find out. She definitely stands up for what she believes in. And she doesn't like to go with the norm, she'd rather go against the grain and be her own person, even if it does make her a bit of an outcast. She extremely dedicated to finding the truth, and not necessarily believing what others tell her just because they think she should.
Josh and Patrick create a bit of a love triangle in the book. Pat is Regan's long time best friend. And, while she finds herself attacked to him, she also sees that a relationship between them might be a bit awkward. But is this how Pat feels? And I didn't know if Pat was trustworthy or not. He's a boy genius, running a company at the tender age of 18. But are there secrets that he's keeping? or secrets that are actually being kept from him? Josh, on the other hand, is someone new and intriguing. He's a bit dark and mysterious, and I wasn't sure if I could trust him in the story. He is an old friend of Patrick's, one who lost touch with him when an incident happened to send him off to military school. But now Josh is back, and he has a bone to pick with Orexis and their Elusion program. So is he in it for revenge or does he have some other agenda in mind?
The characters in the book are developed well and realistic. I was able to relate to them and felt a true connection with Regan.
The world building was a split for me with this one. When the characters are in Elusion and it's described I was totally immersed and able to picture what was going on. I understand what this alternate reality gave to the user and how it could become something the user might not be able to stay away from. And the technology behind it was described well, as is the creation of the program. The world building in regards to where Regan and her friends and family live is not so great. I have no idea why Detroit has become the way it is. The city is overrun with poor air quality, a testament, perhaps, to all the factories that are currently there now. But it is never explained how and why the air quality became so poor, or when this happened. And there are many technologies the residents of the city use which are not fully explained as well. I am also a bit baffled as to what is going on in other parts of the country and world. So I felt I bit in the dark and like perhaps this needed to be addressed a bit better.
The plot is really great. There are many twists and turns the reader will not see coming. There's a ton of mystery and even up until the end I wasn't sure who I could and could not trust. The authors did introduce romance, and a bit of a love triangle (which actually seemed more one sided than anything else). But the romance wasn't what pulled the story along, it was the mystery of what went on when the user went inside the Elusion program and what was going on with those who seemed to be addicted to the program that really kept me in the story.
I enjoyed the writing in this book. It was clean and clear and not full of information dumps. I was never bored, wanting to put the book down and come back at a different time when I thought I might be more into it. The mystery and suspense keep me intrigued and wanting more. And the authors decided to end the book on a bit of a cliffhanger, which has me wanting book #2 before the first book has even been published!
Readers who enjoy sci-fi with mystery and thrillers thrown on top of some action and adventure, will love this first installment of the Elusion series. I would recommend this read for sure!
I can't really remember a time when I didn't love books.
In fact, my mom has told me over and over again that I taught myself how to read when I was three. While I always found that a little hard to believe (mothers tend to exaggerate on occasion, especially when it comes to their kids' accomplishments), she swears it's true.
Looking back, I think what appealed to me most about books was how a story could instantly transport me to another world and set me out on an adventure, whether it was floating around the universe with Meg in A Wrinkle in Time, or floating down a river with Huck Finn and Jim. I also loved how portable books were—I could open up a paperback on the bus to school, or in a park, or in my room, or in the car on the way to my grandparent's house—so no matter where I was, I had the ability to completely disappear. Honestly, reading made me feel like I had this incredible super power, and it still does to this day.
But when did I stop being just an avid reader and become a writer? Well, some people might get asked that question and point to the day they got their literary agent, or signed their first publishing contract. Not me. The day I became a writer was when I penned a children's book (illustrated by my brother Paul) called JUMP-ROPE RALPH. I think we were about 5 and 6 years old when we collaborated on this, stuck at home during a snowstorm. I also think my dad forced us to do something quiet together because oftentimes Paul and I had these giggle fits that could last for hours. Anyway, it was the first time I ever sat down to write a story, and I'll never forget how amazing it felt to use my imagination and create characters with problems that would have to be solved by the end. (In this case, a boy rabbit named Ralph wants to compete in a jump-rope contest that girls are only allowed to enter – the ultimate narrative conflict!)
From then on, I wrote stories in notebooks, moving on from three-subject to five-subject sized when I was in eighth grade. I'd mostly write in the summers and give the stories to my friends to read, hoping they'd like the pre-teen love triangles I cooked up. Sometimes my friends would read the books while they were in progress and give me advice on where they thought the story should go. I also loved to write poetry, too, which I kept a lot more private, kind of like a diary.
When I went to high school, I joined any activity group involving writing, including the newspaper, which I co-edited for three years, starting as a sophomore. I tried getting into creative writing programs when I applied to college, but wasn't accepted—a heartbreaking experience that had me doubting whether or not I had the talent to even be a good writer. I wound up in a traditional English program instead, and for a while, I forgot about pursuing my writing in any serious way. It's just a hobby, I told myself, so in college I did some poetry slams and thought that would be the extent of it.
But then I went on to graduate school, where I was considering a career in academia, and something shifted back into place. While I was toiling away on term papers that had names like "Demystifying the Mneumonics in Milton'sParadise Lost," (um….what?) I got a job working as an editorial assistant at a publishing house in New York City. I don't mean to sound overly dramatic, but it was life changing—I saw that there was another way I could be a part of the world of books. If I couldn't get my own work published (or if it wasn't worthy of being published to begin with), then I could help someone else make his or her dream of becoming an author come true, and do everything I could to give them the right editorial guidance. I'll never forget the first time I called a writer to say I wanted to acquire his novel—he thought it was a prank!
So that's what I've been doing over the past decade—helping authors to create their very best books. Needless to say, working in publishing inspired me to start writing again, and I went through all the things fledgling writers go through. I worked on a novel for five-plus years, got an agent, received a bunch of rejection letters, and was eventually dropped by the agent. But then as luck would have it, an editor became interested in a new tween series that I was writing about friendship and before I knew it, I was finally on the other side of that "I want to acquire your book!" call. The IN OR OUT series was born in 2007, and not too long after that came ROMEO & JULIET & VAMPIRES, a mash-up novel that I wrote in hopes that reluctant readers of Shakespeare would feel more engaged by the Bard of Avon. (I actually had a lot of trouble understanding our dear Will back in the day.)


Cheryl Klam is the author (along with Claudia Gabel) of ELUSION (HarperCollins 3/14) and ETHERWORLD (HarperCollins '15)). She
has also written nearly a dozen novels (under a pseudonym) for Pocket Books, Harlequin, and teen novels (under her own name) for Random House. Her work has been published in fourteen different languages and her teen novel,
THE PRETTY ONE
, was nominated for an Isinglass Teen Read Award. She lives in Maryland with her husband, two daughters, and one lazy dog.