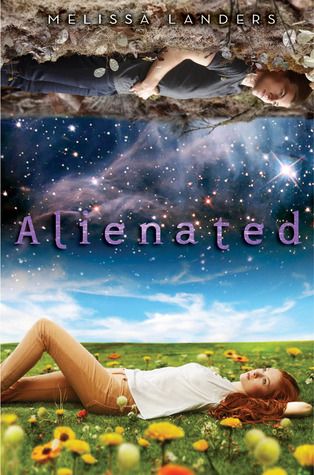 Blurb from Goodreads:
Two years ago, the aliens made contact. Now Cara Sweeney is going to be sharing a bathroom with one of them.
Handpicked to host the first-ever L'eihr exchange student, Cara thinks her future is set. Not only does she get a free ride to her dream college, she'll have inside information about the mysterious L'eihrs that every journalist would kill for. Cara's blog following is about to skyrocket.
Still, Cara isn't sure what to think when she meets Aelyx. Humans and L'eihrs have nearly identical DNA, but cold, infuriatingly brilliant Aelyx couldn't seem more alien. She's certain about one thing, though: no human boy is this good-looking.
But when Cara's classmates get swept up by anti-L'eihr paranoia, Midtown High School suddenly isn't safe anymore. Threatening notes appear in Cara's locker, and a police officer has to escort her and Aelyx to class.
Cara finds support in the last person she expected. She realizes that Aelyx isn't just her only friend; she's fallen hard for him. But Aelyx has been hiding the truth about the purpose of his exchange, and its potentially deadly consequences. Soon Cara will be in for the fight of her life—not just for herself and the boy she loves, but for the future of her planet.

Title: Alienated (Alienated #1)
Author: Melissa Landers
Publication Date: February 4, 2014
Publisher: Disney Hyperion
The Cover Contessa's Review:
I want to thank Disney Hyperion for supplying me with a copy of this book at ALA Midwinter 2014 to read and give an honest review. Receiving this book for free has in no way changed my opinion or review.
I can honestly say that originally, the only reason I wanted to read this book was because of it's cover. I mean, it is fascinating how they decided to incorporate the vibrant colors of earth with the more muted colors of L'eihr. And once you start reading the book, this contrast makes complete sense! And, of course, the two characters on the front certainly give an indication of what you're in for. Although the male doesn't quite fit what I pictured while reading and figuring out the male MC.
Cara is a great character. What I loved most about her was her ability to stand for what she believes in. And her tenacity to try and always do the right thing, even though she may not have been sure what road it might take her down. She is strong, and strong willed, and she's just full of spunk and life. I loved that she was so open in accepting Aeylx into her home and trying her hardest to make him feel comfortable, despite his standoffish ways. I also love that her blog is incorporated into the book. Reminiscent of Jennifer Armentrout's character Katy in the <i>Lux</i> series, but with a twist as the blog is not about books.

Cara is just the right amount of teenager to give her those awkward and unsure moments, while she still possesses quite a bit of maturity. My favorite thing about Cara is how realistic Landers made her. I can completely picture myself as a teen with this girls swagger and brain power.
Aeylx, well, as many have heard before "holy hot alien babies!" Yup, he's totally swoon worthy. Even with his flat and emotionless affect at the beginning of the book, I still liked him from the start. His standoffishness makes him almost endearing. He evolves so much during this book. Definitely the character that breaks the mold and changes the most. He goes from what comes off as a snobby thinks who he is kind of guy, to this gentle, loving character who can warm your heard with his whispered words and butterfly kisses. There wasn't anything Landers could do to make me dislike him, and I really think she tried with what he was hiding!
The secondary characters were honestly not much to write home about. I did like Tori. She was spunky. But I also got annoyed with how quickly Cara's friends jumped to the other side of the fence when it came to Alien versus Human. While I understood the need to show they were scared of the unknown, they did not even take the time to see if the alliance could work for them and jumped to conclusions. I do, however, understand how this could happen quickly if Earth were ever to make contact with another species. I don't think we would all be so quick to accept life from another planet or world.
I've been very into science fiction lately. I am just loving reading about alien lifeforms and how we perceive they would interact with us if we were faced with meeting them. And Landers is no exception! She gives us a story with a plot that is fast paced and interesting. I don't think there was truly a dull moment in the book. I started the book and finished it very quickly. Always a sign that a book has totally held my interest and captured my attention. Landers added plot twists you didn't see coming, characters who turned their backs and betrayed others when you were least expecting it. And Landers gives us a unique plot: an alien race that has made contact only a few years ago and wants to form an alliance that would be of benefit to both species? Why not? And the way they go about creating an exchange program is reminiscent of my travels when I was a teen to a foreign country where I lived with a family that barely spoke a word of English! It brought back great memories of how we had to adapt and learn to communicate so we could get to know one another and live in harmony! Landers chose to weave a political element into the book that could come off as controversial. At the same time, I was totally intrigued by how she was building her world (I'm not usually the political type at all).
One thing I loved about the romance in this book is that it was not insta-love. As a matter of fact, Cara and Aelyx seems to pretty much just tolerate each other for the first half of the book. I found that to be a nice twist on what usually comes off as love at first sight in most YA novels. Landers allowed the characters to grow and get to know each other until one day they kind of just fell into realizing there was more there than just friendship. It was refreshing. And the romance was not heavy at all, but light and cheery and gave my heart flutters!
I will say that I did find some small plot holes in the story, which is why this book gets a 4 instead of a 5. There are some time line breaches that didn't make sense.
All in all I truly enjoyed this book and, while the ending was a bit predictable, I am looking forward to seeing how the story and the relationships of the characters play out in the next book!
Melissa Landers is a former teacher who left the classroom to pursue other worlds. A proud sci-fi geek, she isn't afraid to wear her Princess Leia costume in public—just ask her husband and three kids. She lives just outside Cincinnati and writes adult contemporary romance as Macy Beckett.