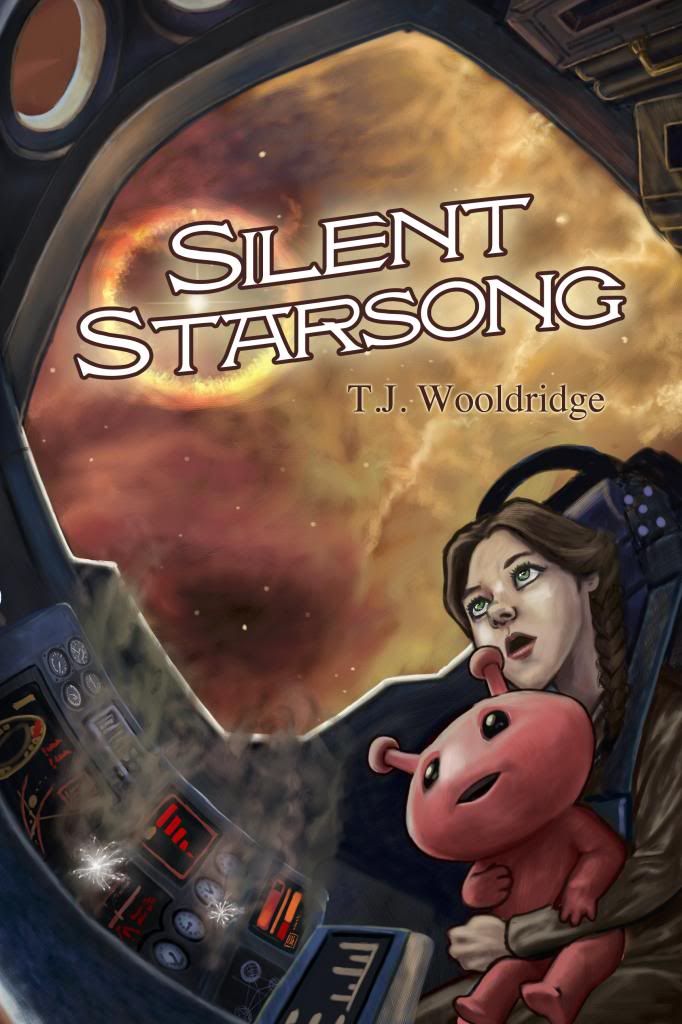 Title: Silent Starsong
Author: T.J. Woolridge
Publisher: Spencer Hill Press (www.spencerhillpress.com) Please feel free to use any images, text. Links, etc. from our website.
ISBN: 9781939392930
Release Date:

July 15, 2014
Formats: Paperback, e-book
Eleven-year-old Kyra is meant to continue the Starbard's proud family legacy of
interpreting the future from the stars' songs. Her deafness, incurable by the best medics, breaks her mother's heart and pushes her father to explore anything to help his little girl--including the expensive purchase of a telepathic alien servant to help Kyra communicate on a planet inhospitable to unfixable genetic defects.
Marne's telepathy is too weak for his Naratsset culture, so he is sold into slavery and expects to die at the hands of human owners--until he meets a human child who begs her father to "save" him. Her kindness introduces Marne to a new world--one where he would risk his life to save a human from her own people's abuse and the stars' songs can touch even a deaf girl and a defective telepath.
When an intergalactic terrorist organization kills Kyra's father, driving her mother to madness, Kyra and Marne only have each others' friendship--until even that is threatened by the danger surrounding the Starbard heritage. But can the two friends, not good enough for either of their cultures or families, manage to keep each other safe when several different worlds threaten their lives?


Trisha J. Wooldridge is A Novel Friend. Since her grammar school days of proudly running home to read vocabulary sentences to her mother, Trisha knew that writing would be a major part of her life. She spent high school editing the school paper, then attended UMass Dartmouth and completed a double Commonwealth Scholar Bachelor of Arts degree in communications and history, adding a minor in Spanish within the 4-year program. When life forced her away from writing studies or careers, she found ways to work in the magic of words. In retail management, stolen moments were spent proofreading signage and scribbling fiction or poetry on receipt paper. Between customer service calls at a financial firm, she edited company guidelines and contracts--and hand-wrote a fantasy novel.
In 2005, she finally followed her heart and moved to a freelance lifestyle. Her first professional publications were stories about the
Bay State Equine Rescue (BSER)
, but she quickly moved onto more gigs writing about food, wine, entertainment, music, and Tarot, in addition to horses. She also started editing both fiction and non-fiction regularly and started working as a part-time online tutor.
Fiction--particularly genre fiction, however, is Trisha's first love. She co-authored two short stories for the EPIC-award winning
Bad-Ass Faeries
anthology, has sold both fiction and poetry to various magazines, and is currently editing the convention-themed anthology,
UnCONventional
, for
Spencer Hill Press
. In addition, Trish has several novels she's working on and shopping out.
Her work in genre fiction, particularly in helping other women, led her to join
Broad Universe
, an international non-profit dedicated to promoting, honoring, and celebrating women who write science fiction, fantasy and horror. She is currently the president of the organization.
Trish calls herself A Novel Friend because she believes that a good relationship is at the heart of any business, but especially when working with writing. Some writers share their soul on paper while others find writing painstakingly difficult. A Novel Friend treats subjects, assignments, clients, and their words as friends--with respect, care and dignity.