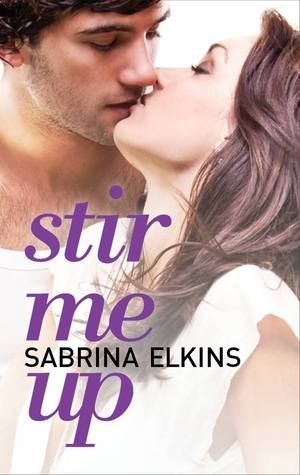 Stir Me Up
Release Date: 10/01/13
Harlequin Teen
Summary from Goodreads:
Cami Broussard has her future all figured out. She'll finish her senior year of high school, then go to work full-time as an apprentice chef in her father's French restaurant, alongside her boyfriend, Luke. But then twenty-year-old ex-Marine Julian Wyatt comes to live with Cami's family while recovering from serious injuries. And suddenly Cami finds herself questioning everything she thought she wanted.

Julian's all attitude, challenges and intense green-brown eyes. But beneath that abrasive exterior is a man who just might be as lost as Cami's starting to feel. And Cami can't stop thinking about him. Talking to him. Wanting to kiss him. He's got her seriously stirred up. Her senior year has just gotten a lot more complicated….
Cami: Hi, my name is Cami Broussard. I'm a senior in high school and I want to be a chef.
Julian: Hi, I'm Julian Wyatt.
Julian: I am being nice. I answered, didn't I?
Cami: Say something else. Tell them about how you were in Afghanistan.
Julian: Fine. I was in Afghanistan.
Um… Okay. How does it feel to be home now, Julian?
Cami: Come on, be honest. Tell her about how it's been difficult for you. How you sometimes
can't cope. How you lost your leg and had to go through so much medical stuff.
Julian: I'm not getting into that with her. She asked me how it feels to be home. She didn't ask
Cami: Tell her what you think of Vermont, then.
Julian: Okay sure. Vermont's nice.
Glad to hear it. So, what's going on with you two? Are you two in love?
Julian: She doesn't seriously think I'm going to answer that, does she?
Cami: Maybe this was a mistake.
Julian: She asked me if I'm in love with you. Don't you think that's kind of personal? I mean,
what's she going to ask next, how far we've gone in bed together?
No wait! Please don't go! I'm new at interviewing and didn't mean to offend you guys. I'll
ask an easy one. Okay? Tell me about your future plans. Cami, you're graduating high school soon. Julian, you're recovering from your injuries. Where do you see yourselves going next?
Cami: Actually, you do have a point, Julian. These questions are kind of personal. I mean, I
don't want to get into that with her.
Julian: I'll handle this. Where I see us going next is out of this room. Come on, Cami.
Cami: I'm right behind you.
Wait! Please! A few more quick and fun ones for you guys, if I could… Where was your first date?
Cami: Date? You mean like where he takes me out to dinner and a movie?
Julian: I'll take you out for dinner and a movie.
Cami: No, Julian. It's fine. I understand you've been recovering.
Julian: Mademoiselle Broussard, would you please go out to dinner with me?
Cami: What happened to my movie?
Julian: You can get a movie, too.
Cami: And a kiss goodnight?
Aww -- you guys are sweet! Hold on, let me get my phone out to capture the moment.
Julian: She really is obnoxious.
Okay, uhh… well… we'll just leave you two. Thanks for stopping by. Hope you liked the interview
"Fun, steamy, and leaves you hungry for more. Sabrina Elkins nails the vulnerability of becoming an adult and the choices that come with growing up.
" —Katie McGarry, author of Dare You To
"Cami's slow burn for a wounded hero will rivet readers. I seriously loved this book."
—Jennifer Echols, author of Dirty Little Secret
"This book is one of my favorite young adult contemporaries. Not only does it feature a hot romance, it's also very meaningful and well, you just have to read it and see."
—#1 New York Times bestselling author Jennifer L. Armentrout
I am a former journalist who worked for the
Los Angeles Daily News
and other newspapers in the greater Los Angeles area. Prior to this I worked in advertising, writing ad copy for corporate travel accounts and major motion pictures. My first job out of college was as an administrative assistant to an executive chef and a food & beverage director at a Four Seasons hotel. I also spent some time working as a prep cook for Spago in Beverly Hills.

I received my Master's degree in Journalism from the University of Southern California. While in graduate school, I had the privilege of studying fiction writing under renowned author Hubert Selby, Jr., and comedy writing under famed comedian Shelley Berman. I am a past participant of the Squaw Valley Community of Writers Summer Writing Workshop.

Raised in the woods of Vermont, I now live in the greater Los Angeles area with my husband and three children. STIR ME UP is my first novel.