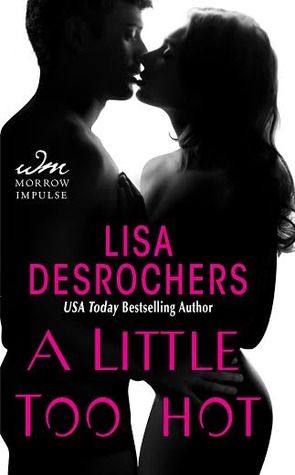 Author: Lisa Desrochers
Series: A Little Too Far #3
Publication Date: January 21, 2014
Publisher: William Morrow Impulse
From USA Today bestselling author Lisa Desrochers, comes the third book in her sizzling New Adult series.
Tossed out of college and cut off by her parents, Samantha West is in pretty dire straits. So when her rocker best friend hooks her up with a job dancing at a gentlemen's club, who is she to turn it down? Plus, there are rules to dancing at Benny's: No touching, keep your clothes on at all times, and never get closer than three feet. Unfortunately for Sam, her first private client makes her want to break every single one of them.
Harrison Yates is scorching hot, but he's got a past that involves being left at the altar not too long ago. Sam is determined to make him forget about his ex, but when she makes her move, it flings her life into a spiral of chaos she never saw coming.
Because Harrison Yates isn't who he seems to be. And his secret will probably get her killed.
GOODREADS
|
AMAZON
|
BARNES & NOBLE
|
iTUNES
|
GOOGLE PLAY
Praise for A LITTLE TOO HOT
"
Every page is deliciously breathtaking, wickedly sexy and sensational. A LITTLE TOO HOT is wonderfully unique and a LOT HOT! I am a HUGE Lisa Desrochers fan.
"
— Katy Evans, New York Times bestselling author of REAL, MINE, and REMY
"Lisa is brilliant at creating sizzling sexual tension and impossible circumstances that make the reader hold their breath all the way to happy ever after. Sam and Harrison are more than A Little Too Hot, they are scorching!"
— Jay Crownover, New York Times bestselling author of RULE, JET, and ROME
"Lisa Desrochers' best yet! A LITTLE TOO HOT is hotter than hot with all the emotional punch to back it up!"
— Sophie Jordan, New York Times bestselling author
Tell us about a time you wondered if being an author was really for you. How did you decide it was?
I wonder this everyday. This job is both a dream come true and the most stressful thing I've ever done. Every single day, an author puts themselves out there to be judged by what we hope is the rest of the world. But then it turns out the only person who buys our book is our mother, and it just gives her one more thing to criticize and we stop eating and can't sleep at night until…oh, wait…that's TMI, isn't it. But in all seriousness, I've yet to meet an author (and I've met some BIG ones) who hasn't said there's always an element of self-doubt. We get that review that says our writing is mundane and our characters are flat and, no matter that we have a thousand reviews that say exactly the opposite, it's hard not to take that to heart and wonder if we truly do suck. When that happens, I try to remember how much I love my characters, and how real they are to me, and how their story touched me. I remind myself that reading is subjective and not everything is going to appeal to everyone. I take pride and feel joy that my characters have moved some people (many, actually) as much as they've moved me, and that most everyone who read got what I was trying to do, and I love my job even more.
Title:

A LITTLE TOO FAR (A Little Too Far #1)
Pub. Date: September 17, 2013/October 1, 2013
Publisher: William Morrow
Pages: 336
Formats: Paperback, eBook
Yep. She just had mind-blowing sex with her stepbrother. In her defense, she was on the rebound, and it's more of a my-dad-happened-to-marry-a-woman-with-a-super-hot-son situation. But still, he's been her best friend and confidant for the better part of the last few years … and is so off limits. It's a good thing she's leaving in two days for a year abroad in Rome.
But even thousands of miles away, Lexie can't seem to escape trouble. Raised Catholic, she goes to confession in hopes of alleviating some of her guilt … and maybe not burning in hell. Instead, she stumbles out of the confessional and right into Alessandro Moretti, a young and very easy-on-the-eyes deacon … only eight months away from becoming a priest. Lexie and Alessandro grow closer, and when Alessandro's signals start changing despite his vow of celibacy, she doesn't know what to think. She's torn between falling in love with the man she shouldn't want and the man she can't have. And she isn't sure how she can live with herself either way.
To read an excerpt on the author's website,
CLICK HERE
.
GOODREADS
|
AMAZON
|
BARNES & NOBLE
Title:

A LITTLE TOO MUCH (A Little Too Far #2)
Pub. Date: November 12, 2013/December 10, 2013
Publisher: William Morrow
Pages: 416
Formats: Paperback, eBook
In the follow-up to Lisa Desrochers' explosive New Adult novel A Little too Far, Alessandro Moretti must face the life he escaped and the girl he loved and left behind.
Twenty-two year old Hilary McIntyre would like nothing more than to forget her past. As a teenager abandoned to the system, she faced some pretty dark times. But now that's all behind her. Hilary has her life on track, and there's no way she'll head back down that road again.
Until Alessandro Moretti—the one person who can make her remember—shows up on her doorstep. He's even more devastatingly gorgeous than before, and he's much too close for comfort. Worse, he sees right through the walls she's built over these last eight years, right into her heart and the secrets she's guarding.
As Hilary finds herself falling back into love with the man who, as a boy both saved and destroyed her, she must decide. Past or future? Truth or lies?
GOODREADS
|
AMAZON
|
BARNES & NOBLE
Lisa Desrochers is the USA Today bestselling author of
A LITTLE TOO FAR
, courtesy of HarperCollins, and companions,
A LITTLE TOO MUCH
(Nov 12, 2013), and
A LITTLE TOO HOT
(Jan 21, 2014). Also in stores is her YA
PERSONAL DEMONS
trilogy (Macmillan).
She lives in central California with her husband and two very busy daughters. There is never a time that she can be found without a book in her hand, and she adores stories that take her to new places, and then take her by surprise.
WEBSITE
|
BLOG
|
TWITTER
|
FACEBOOK
|
GOODREADS
a Rafflecopter giveaway
Week One: Day One
Jan. 20th - Page Turners Blog - Review + Excerpt
Jan. 20th - Lost in Literature - Review
Jan. 20th - The Reading Cafe - Review + Guest Post
Jan. 20th - City of Books - Review
Jan. 20th - Sun Mountain Reviews - Review
Week One: Day Two
Jan. 21st - Fiktshun - ALT Scene from Harrison's POV
Jan. 21st - Step Into Fiction - Review + Deleted Scene
Jan. 21st - Lovin' Los Libros - Review
Jan. 21st - The Autumn Review - Review
Jan. 21st - A Love Affair With Books - Review
Jan. 21st - Alii's Book Jungle - Review
Jan. 21st - Book Labyrinth - Review + Character Interview
Week One: Day Three
Jan. 22nd - Books Complete Me - Review + Excerpt
Jan. 22nd - In the Best Worlds - Review
Jan. 22nd - Globug and Hootie Need A Book - Review
Jan. 22nd - My Favorite Things - Playlist Post
Jan. 22nd - Ginger-read Reviews - Review
Jan. 22nd - Book Angel Booktopia - Review
Week One: Day Four
Jan. 23rd - Ramblings From This Chick - Review
Jan. 23rd - The Demon Librarian - Review
Jan. 23rd - Books Over Boys - Excerpt or Deleted Scene
Jan. 23rd - Keepin' It Real Book Blog - Review
Jan. 23rd - No Bent Spines - Author Interview
Week One: Day Five
Jan. 24th - Seeing Night Reviews - Guest Post
Jan. 24th - Bookhounds YA - Guest Post
Jan. 24th - The Book Swarm - Review
Jan. 24th - The Book Review - Review
Jan. 24th - bookaholics anonymousonline - Guest Post
Jan. 24th - Little Bookworm Reviews - Review
Week Two: Day Six
Jan. 27th - Owl Always Be Reading - Review + Guest Post
Jan. 27th - BookChic - Review
Jan. 27th - The Book Whore-der's Delights - Review
Jan. 27th - Paranormal Book Club - Guest Post
Jan. 27th - Ticket to Anywhere - Deleted Scene
Jan. 27th - Nocturne Romance Reads - Review + Author Interview
Week Two: Day Seven
Jan. 28th - The Busy Bibliophile - Review
Jan. 28th - The Cover Contessa - Guest Post
Jan. 28th - Book Crushin - Review
Jan. 28th - Rumpled Sheets Blog - Review
Jan. 28th - Good Books & Good Coffee - Guest Post
Week Two: Day Eight
Jan. 29th - Michelle & Leslie's Book Picks - Review + Character Interview
Jan. 29th - Waiting For Wentworth - Review
Jan. 29th - Nestled in a Book - Review
Jan. 29th - The Scarlet Siren - Review
Jan. 29th - Nerd Alert Book Love - Review
Jan. 29th - Allodoxophobia: The Fear of Opinions - Review
Week Two: Day Nine
Jan. 30th - The Irish Banana Review - Review + Guest Post
Jan. 30th - Stuck In YA Books - Review + Excerpt
Jan. 30th - adventures-in-word - Review
Jan. 30th - The Bookmark Blog - Review
Jan. 30th - All in a Book - Review
Jan. 30th - Booklovers LaceyCat - Deleted Scene or Excerpt
Week Two: Day Ten
Jan. 31st - Fade Into Fantasy - Guest Post
Jan. 31st - Hot Stuff Book Reviews - Review
Jan. 31st - Kimberlyfaye Reads - Review
Jan. 31st - Sugar and Spice Book Reviews - Excerpt
Jan. 31st - Polished Readers - Review
Jan. 31st - A Bookish Escape - Review