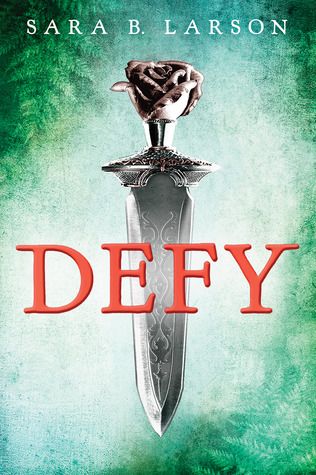 A lush and gorgeously written debut, packed with action, intrigue, and a thrilling love triangle.
Alexa Hollen is a fighter. Forced to disguise herself as a boy and serve in the king's army, Alex uses her quick wit and fierce sword-fighting skills to earn a spot on the elite prince's guard. But when a powerful sorcerer sneaks into the palace in the dead of night, even Alex, who is virtually unbeatable, can't prevent him from abducting her, her fellow guard and friend Rylan, and Prince Damian, taking them through the treacherous wilds of the jungle and deep into enemy territory.
The longer Alex is held captive with both Rylan and the prince, the more she realizes that she is not the only one who has been keeping dangerous secrets. And suddenly, after her own secret is revealed, Alex finds herself confronted with two men vying for her heart: the safe and steady Rylan, who has always cared for her, and the dark, intriguing Damian. With hidden foes lurking around every corner, is Alex strong enough to save herself and the kingdom she's sworn to protect?
Today Sara has stopped by for a guest post. This is what we asked her to answer!
Describe your ultimate fantasy world. What role would you play if you lived there?
My ultimate fantasy world to live in would have all of the awesome parts of fantasy worlds without all of the dangers and downsides. It would be a lush, beautiful landscape similar to Antion in DEFY but without the oppressive heat and humidity or all the deadly animals lurking in the shadows. It would also have a beautiful beach within riding distance, complete with a gorgeous crystal blue ocean, because I love the beach. And just a train ride away would be Hogwarts. Harry Potter would be my next door neighbor with his wife Ginny, and their cute kids. Ron and Hermione might live a little ways down the road. We'd have all our modern conveniences, but we'd still ride horses to get places if we wanted to, because I love riding. Or maybe a hippogriff or two, just in case we want to go flying. I'd have a pet phoenix, like Dumbledore.

And I would be a powerful, but wise and gentle, sorceress/witch.
I could keep going, but I think that's a pretty good start, right?
Thanks for having me here today and I hope you enjoy DEFY!
Thanks so much for
stopping
by today, Sara. Great to have you here! Good luck with Defy!
Sara loves writing, reading, and dessert--but the order varies by the day. She wrote her first book in second grade about a woman who had a premature baby, complete with a "to scale" drawing of the baby's size--while her mom was pregnant. To say she was a bit precocious is putting it lightly. Now that she's an adult, she writes books for teens that have magic and romance and kick-butt girls (and very few premature babies). She lives in Utah with her husband, two young sons and baby girl. She writes during naptime and the hours when most people are sleeping. Her husband claims that she should have a degree in "the art of multitasking." On occasion you will find her hiding in a bubble bath with a book and some Swedish Fish. she is represented by Josh Adams of Adams Literary and her YA debut DEFY is coming January '14 from Scholastic!
a Rafflecopter giveaway