Welcome to The Cover Contessa's stop on The Almost Girl blog tour hosted by JKSCommunications!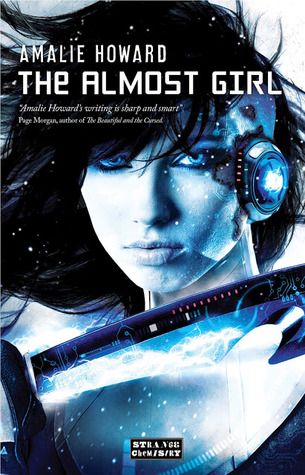 Seventeen-year-old Riven is as tough as they come. Coming from a world ravaged by a devastating android war, she has to be. There's no room for softness, no room for emotion, no room for mistakes. A Legion General, she is the right hand of the young Prince of Neospes, a parallel universe to Earth. In Neospes, she has everything: rank, responsibility and respect. But when Prince Cale sends her away to find his long-lost brother, Caden, who has been spirited back to modern day Earth, Riven finds herself in uncharted territory.
Thrown out of her comfort zone but with the mindset of a soldier, Riven has to learn how to be a girl in a realm that is the opposite of what she knows. Riven isn't prepared for the beauty of a world that is unlike her own in so many ways. Nor is she prepared to feel something more than indifference for the very target she seeks. Caden is nothing like Cale, but he makes something in her come alive, igniting a spark deep down that goes against every cell in her body. For the first time in her life, Riven isn't sure about her purpose, about her calling. Torn between duty and desire, she must decide whether Caden is simply a target or whether he is something more.
Faced with hideous reanimated Vector soldiers from her own world with agendas of their own, as well as an unexpected reunion with a sister who despises her, it is a race against time to bring Caden back to Neospes. But things aren't always as they seem, and Riven will have to search for truth. Family betrayals and royal coups are only the tip of the iceberg. Will Riven be able to find the strength to defy her very nature? Or will she become the monstrous soldier she was designed to be?
"The Almost Girl" is a richly imagined story of defiance, courage, and heart. It is the tale of a girl who finds her own way on her own terms, a girl who won't let what she is define her, and a girl who will sacrifice everything she is for the ones she loves. It is a story of someone who eclipses her predestined fate to become something more … something extraordinary.
The Cover Contessa's Review:
I want to thank Strange Chemisty for providing me with an ecopy of this book via Net Galley to read and give an honest review. Receiving this book for free has in no way influenced or altered my opinion or review.
Where do I begin? I just love Amalie's writing. She gets me EVERY time. So, when I found out about this one, i knew I had to have it! I love this cover. It's totally fabulous! I love how the android area is incorporate into the girl. Really quite awesome!
I really enjoyed the characters in this book. They are very well developed and I really becomes invested in them.
As for Riven, holy moly, she is one strong amazing chick! She's smart and fast and just all around kick butt. She's also very stubborn, but I suppose that comes along with having the duty to bring the Prince's brother back to her world. What she doesn't expect is to begin to like our world, or to grow close with anyone in it. I love how Riven struggles with her emotions. She has no idea what to make of her ever changing heart. It's interesting to watch her struggle. One moment she's tough as nails, keeping her purpose in the forefront and then next she's fighting to figure out why she's feeling so attached to people she shouldn't be.
Caden, well, I liked him from the very start. He was witty, although a bit naive, and just all around fun. I was surprised that he was able to take the new information presented to him so well. But I think this gave credit to his persona of being a bit laid back. He's the exact opposite of Riven in every sense of the word. Yet they grow to have this connection that is quite strong. And I love how he grows in this book. He starts off fairly simple but then gains so much speed and takes off by the end. He really comes into himself.
I loved the tension Howard built between Riven and her sister, Shae. You see that they have a rift, but can also feel like it could easily be mended, that there's more to them then first meets the eye. Shae is hard to read. But once you find out the risks she has taken, you begin to really understand her.
As for plot, this book was fast moving and paced to go. There wasn't a point I was bored or wanted to put it down. I loved the parallel universes that Amalie creates. Her world building is quite good. The prologue lends a good deal of information in the beginning, although it would have been nice to see just a bit more of Neospes. I really wanted to understand that world. But I also understood that it needed some secrecy so once we got there we could be more surprised. There are a lot of twists and turns that this book takes which keep it entertaining and interesting.
I love Howard's writing. I finished Waterfell not too long ago and loved her writing with that, as well. She knows how to develop her characters. She knows how to create a story that pulls you right in and grips you to the end.
I really enjoyed this book overall. I'm interested to see where it goes in the next one. I'm sure Howard will surprise me!
Other books by Amalie:
A rising star among young adult writers, Amalie Howard developed a loyal following after releasing her debut book, "Bloodspell," in 2011. Now, she is returning with five new books that are sure to excite her devoted fans and catch the attention of new readers.
A bookworm from the beginning, Howard grew up on a small island in the Caribbean with her nose buried in books. When she was just 13 years old, her poem "The Candle" was published in a University of Warwick journal, marking a sign of great things to come. Howard immersed herself into other cultures, globetrotting through 22 countries in North America, Europe, Asia and Australia. After moving to the United States, she earned a bachelor's degree in international studies and French from
Colby College in Maine. She also holds a certificate in French literature from the Ecole Normale Superieure in Paris, France. Traveling around the world, Howard has lent talents as a research assistant, marketing representative, freelance writer, teen speaker, blogger and global sales executive.
Howard is a recipient of a Royal Commonwealth Society award, an international youth writing competition. She is also a member of the Society of Children's Book Writers and Illustrators.
Howard's first book, "Bloodspell"
(June 2011, Langdon Street Press) earned rave reviews and
was named a Seventeen Magazine Summer Beach Read. Readers will hear more from Howard as she releases a pair of two-book series, "Waterfell"
(November 2013, Harlequin TEEN) and "The Almost Girl" (January 2014, Strange Chemistry), as well as "Alpha Goddess" (March 2014, Skyhorse/Sky Pony Press) over the next two years.
Howard lives in New York with her husband, three children and one
willful feline that she is convinced may have been a witch's cat in a past life.
a Rafflecopter giveaway