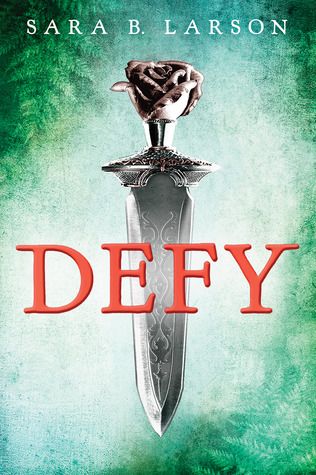 Blurb from Goodreads:
A lush and gorgeously written debut, packed with action, intrigue, and a thrilling love triangle.
Alexa Hollen is a fighter. Forced to disguise herself as a boy and serve in the king's army, Alex uses her quick wit and fierce sword-fighting skills to earn a spot on the elite prince's guard. But when a powerful sorcerer sneaks into the palace in the dead of night, even Alex, who is virtually unbeatable, can't prevent him from abducting her, her fellow guard and friend Rylan, and Prince Damian, taking them through the treacherous wilds of the jungle and deep into enemy territory.
The longer Alex is held captive with both Rylan and the prince, the more she realizes that she is not the only one who has been keeping dangerous secrets. And suddenly, after her own secret is revealed, Alex finds herself confronted with two men vying for her heart: the safe and steady Rylan, who has always cared for her, and the dark, intriguing Damian. With hidden foes lurking around every corner, is Alex strong enough to save herself and the kingdom she's sworn to protect?
The Cover Contessa's Review:
I want to thank Scholastic Press for providing me with an eARC via Net Galley to read and review. Receiving this book for free has in no way influenced or altered my opinion or review.
I will be honest and say it is seldom that I dive into a fantasy novel. I often find them boring and hard to follow. But this blurb caught me off guard and I really took an interest in what this story would be about. Plus the gorgeous cover may have had something to do with pulling me in. It's so simple and elegant and the green is an extremely striking color!
Alex (Alexa) Hollen is not what he seems. Fighting as a guard to the Royal Prince, he has kept his secret going on three years. Alex is not a boy, he's a girl! Alexa has pulled it off well, though. No one suspects or knows what she truly is, except her twin brother. So her character is brave and bold and fights like no one you have seen. She is set on keeping the Prince safe, and saving herself from being relegated as a breeder in the mean time. When things suddenly start to unravel as the Prince's life is threatened, she's not sure what to do. So she keeps up her front. But it is inevitable that her world starts to fall apart, after all where would the story be if those around her did not suddenly realize she is female? And once her secret is revealed, she begins to take on the mannerisms of a girl, and begins to have girl feelings she never thought would intrude on her life. I did find that she was suddenly way too comfortable with being a girl, with using her "feminine wiles" on those surrounding her. And suddenly, she allows herself to feel things all women should feel. While I understand that she has always kept a front for those around her, I find it hard to believe that she all of a sudden starts having these feelings. Initially I really liked her characters, she was hard and had a great need to keep up her front. But then her character has some inconsistencies that bothered me and I think this made it hard for me to connect with her and really care about her situation. She becomes weak and, for lack of a better word, floppy. She goes from a kick-butt character to a weak girl with no grit.
Prince Damian, well, I wasn't sure what to think of him. Initially he's arrogant and annoying and this just set me off on the wrong foot. Should I trust him or not trust him. What is his agenda. This one kept me on my toes. He finds Alexa interesting and wants to share secrets with her, but he doesn't tell her everything, in the hopes of keeping her and others around her safe. Yet I find it hard to believe that he suddenly feels like he can trust her with his "secret" plan. Why does he choose her? What is it about this particular guard that makes him feel she's trustworthy. And then he becomes so much softer, his tough exterior all but disappearing. It just didn't' jive for me. Towards the end of the book he does reveal a little of why he knew she would be right for the job; he too is holding on to secrets, so they had this in common. But overall I don't find him attractive and I had a hard time connecting with him.
Rylan was probably my favorite character. He's like your male best friend. I love that everything he does he does to protect Alexa. He has promised her twin brother this and he intends to not waiver in that. He's' sweet and kind and I can really picture him in my mind, the way his hair falls, the beautiful color of his brown eyes (which Alexa describes to us on more than one occasion). I was really drawn to him and was rooting for him the whole book, hoping that things would turn his way because he truly cared for Alexa and what she wanted. Unfortunately, I don't think he is fleshed out enough, so, while we understand his feelings and his need to protect, we don't actually feel it from him.
Overall the plot is an interesting one. The world building has nothing exceptional to it. There are so many different settings, but none of them actually stand out in my mind. I can't see the kingdoms, or the jungle surrounding it. It's kingdoms that are separated by war. There are some great twists and turns and surprises you probably will not be expecting. But there are also some things that are quite obvious from the beginning, so I figured them out and that made the book run a bit slow for me. I expected a bit more action in this book, it being filled with swords and daggers and sorcery. I was surprised when the sorcery was introduced. I was not expecting it because it didn't at all seem like it was leading in that direction. And, while it was unexpected, it almost felt like it didn't fit with the mold presented at the beginning of the book. I felt like perhaps the prologue could have eluded to the sorcery a bit so that you knew something was different.
And the love triangle, I just didn't feel it. The whole time I knew who she would pick, she made that pretty clear. But there's always room for surprises, which never happened and led to more disappointment. For love triangles to work, they have to be done well. The protagonist really has to show interest in both the love interests and they need to offer her different things so it is believable that she could waiver between the two. I have not found many instances where love triangles work, and this was no exception.
The writing was quite good. It flowed well. I did find that the author tended to use the same descriptions for things at times: how many times would she tell us what Rylan or the Prince's eyes looked like. And never in a different way, always with the same description.
Overall this book does not stand out for me. It does start off with a bang, but that doesn't continue for me. It just remains quite flat rather than having it's ups and downs. The story is fun enough, but nothing to write home about. I think fans of fantasy might enjoy it enough, though if they read a lot of stellar fantasies this one will definitely fall short. I just did not feel the connect that I wished I would have after hearing so many great things about it. I would not call it fantastic, I would call it good, maybe even ok. Perhaps you should see for yourself.
My debut YA fantasy DEFY was published on January 7, 2014! I'm represented by Josh Adams. Mommy of three. Lover of chocolate, desserts of all kinds, and Swedish Fish. Also good books.
Due to time constraints, I'm not on goodreads very often and can't usually check all my messages. But I AM active on Twitter, FB, and my blog! All requests for interviews/guest posts/etc. need to go through my publicist, Sheila Marie Everett at Scholastic. Please email her at severett (at) scholastic (dot) com and she will get back to you as soon as she can!