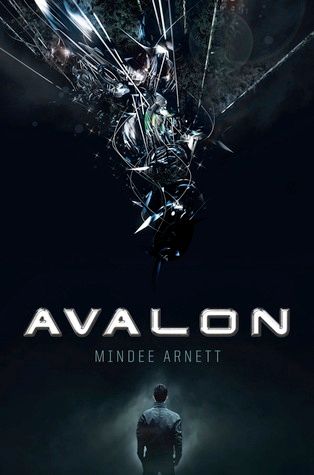 Blurb from Goodreads:
A ragtag group of teenage mercenaries who crew the spaceship Avalon stumble upon a conspiracy that could threaten the entire galaxy in this fascinating and fast-paced sci-fi adventure from author Mindee Arnett.
Of the various star systems that make up the Confederation, most lie thousands of light-years from First Earth-and out here, no one is free. The agencies that govern the Confederation are as corrupt as the crime bosses who patrol it, and power is held by anyone with enough greed and ruthlessness to claim it. That power is derived from one thing: metatech, the devices that allow people to travel great distances faster than the speed of light.
Jeth Seagrave and his crew of teenage mercenaries have survived in this world by stealing unsecured metatech, and they're damn good at it. Jeth doesn't care about the politics or the law; all he cares about is earning enough money to buy back his parents' ship, Avalon, from his crime-boss employer and getting himself and his sister, Lizzie, the heck out of Dodge. But when Jeth finds himself in possession of information that both the crime bosses and the government are willing to kill for, he is going to have to ask himself how far he'll go to get the freedom he's wanted for so long.
Avalon is the perfect fit for teens new to sci-fi as well as seasoned sci-fi readers looking for more books in the YA space-and a great match for fans of Joss Whedon's cult hit show Firefly.
Title: Avalon (Avalon #1)
Author: Mindee Arnett
Expected Publication Date: January 21, 2014
Publisher: HarperTeen (Balzer and Bray)
The Cover Contessa's Review:
I want to thank HarperTeen for supplying me with an ARC of this book to read and give an honest review. Receiving this book for free has in no way influenced my opinion or review.
I have really been into Sci-Fi lately. I just love things that take place in other worlds. So outer space was the perfect setting for me to sit down and get comfortable with this book! I did get a little leery of things for a while. I'm not into horror and I thought for sure it was going that direction. But I was happy to find that, while there were parts that made my heart thump, there was nothing horrific about this book.
The cover is very simple to this book. I'm actually still not 100% sure what it is supposed to represent, to be honest. But it still drew me before I read the book. I would have liked something more wow worthy, and perhaps having Avalon on the cover might have been a better choice, since much of the book is about that ship.
Jethro (Jeth) Seagrave is not your typical teen, for sure. He's smart and savvy, brave and loyal, and easily adapts to situations. And he's a thief. This is why he was such an asset to Hammer (the "bad guy"). He knows what to do on the turn of a dime and doesn't let anything deflect from his mission. That is until he's sent into a part of outer space where things just happen, the Belgrave; the Bermuda Triangle of the milky way! Strange things happen in this part of space, things he can't explain, things that cause him to be weary of the intentions of anyone he meets. Having lost his parents to something that happen there, he isn't too fond of having to do the mission. But it pays well, so he drags his ragtag team there and finds things he was not expecting. I have to say his reactions are spot on. I can say there are some parts of him that are a little too naive and trusting. Having spent quite a few years as a thief, you would think he would be more weary of people, but he's not. This bugged me a bit. He does interject some humor into his situations, which lighten the mood quite a bit. The other thing that I wasn't so happy about was Jeth's obsession with getting Avalon back. I understood his longing for it, but I felt like it was mentioned at least once a chapter and it started to get old that he couldn't focus on other things, like saving the lives of his crew and worrying more about them. He was likable enough, but he wasn't in any way swoon worthy.
His crew is just as interesting. His sister, Lizzie, is a whiz with computers and tech, at a very young age, nonetheless. Celeste is just as savvy as he is, and she's a total sass. I love that they have a plutonic relationship. It works well in this book and shows that the opposite sex can have a friendship. Shady is also quite fun. He banters a lot with Jeth and it makes him totally likable. I have to say I didn't get much from Flynn, I'd like to know a bit more about him.
Then we have Sierra. She's someone we meet once the crew goes into the Belgrave. At first, I didn't trust her, I thought there was something off. But then she seemed so genuine and caring. I felt like she had a lot to offer. And she cared a lot for Cora so much and didn't want to see her get hurt. But I felt like I really didn't know Sierra. Which is probably why I just could not trust her. Her side kick is really not worthy of much mention. As a matter of fact, I can barely remember his name. He is basically a brother to her, but we get nothing from their relationship at all except that he wants to protect her. We only get a few glimpses of who she truly is and why she does the things she does. It's an essential part of the plot but I still didn't find myself connecting with her that much.
The romance in this book is not great. I would have liked to see it move more. But I also understand the reasoning for Arnett keeping it so simple, which I won't get into because it will spoil some twists and turns the book takes. I am interested to see where it goes in the next book.
The setting is creepy. The Belgrave is everything you dream of outer space with nothing at all around you. It's still and quiet. But strange things happen there that make your heart jump into your chest. Ships get lost, people and things mysteriously disappear, and things go bump in the night. I was definitely expecting Aliens to jump out of the crevices in the ship. And Arnett does great with bringing this creepiness to life as the crew explore an abandoned ship and find strange things that they just cannot explain.
I have to say this book starts off quite slowly. I pushed through a bit because I figured it would get better once the world building was out of the way. And it did. There are a lot of twists and turns the book takes once you get to about the half way point. There are things that you would not see coming at all. I do have to say that there was one twist I was not surprised about and kind of expected from the beginning, but it didn't make the story any less enjoyable for me.
Arnett chose to write this book in third person. But mostly we get Jeth's POV from the omniscient perspective. Many times I find it hard to connect with characters when a book is written this way. I have found few authors who can really pull this off (Clare is one that knows exactly what to do). However, I understand Arnett's need to keep a bit of distance and let the reader see things from all sides. Being in the head of one character would have given too much away and would not have allowed for the twists and turns the book eventually took. I would have liked to see her get more into Lizzie and Sierra's head, since she had the opportunity to do it with the third person POV.
The book is filled with a lot of action, despite the slow beginning. I loved how Arnett created this world of outer space where there is a Confederation of planets (almost Star Trek or Star Wars like), yet all the inhabitants are human. There is a lot of betrayal you will not see coming, and it will make you mad (at least it made me mad). And there is also quite a bit of tension that builds up pushing you to want to see how things will work out.
I have seen tons of comparisons to Josh Wheadon's show Firefly, but since I have not watched this who, I don't know how they relate at all. And I'm kind of glad I have not watched it because it seems like perhaps I might not have liked the premise as much if I did.
Avalon is a great sci-fi read for lovers of shows like Battle Star Galactica and Deep Space Nine. If you're looked for a read that takes it's twists and turns and keeps you on your toes, then this is it!
YA Author of THE NIGHTMARE AFFAIR, a contemporary fantasy coming March 5, 2013 from Tor Teen (Macmillan) and AVALON, a YA sci-fi thriller coming Winter 2014 from Balzer+Bray (HarperCollins). Represented by the fabulous Suzie Townsend of New Leaf Literary. Addicted to jumping horses and telling tales of magic, the macabre, and outer space.
Goodreads/Website/Facebook/Twitter