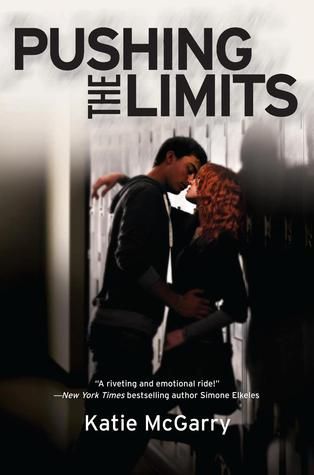 No one knows what happened the night Echo Emerson went from popular girl with jock boyfriend to gossiped-about outsider with freaky scars on her arms. Even Echo can't remember the whole truth of that horrible night. All she knows is that she wants everything to go back to normal.
But when Noah Hutchins, the smoking-hot, girl-using loner in the black leather jacket, explodes into her life with his tough attitude and surprising understanding, Echo's world shifts in ways she could never have imagined. They should have nothing in common. And with the secrets they both keep, being together is pretty much impossible.
Yet the crazy attraction between them refuses to go away. And Echo has to ask herself just how far they can push the limits and what she'll risk for the one guy who might teach her how to love again
Title: Pushing the Limits (Pushing the Limits #1)
Author: Katie McGarry
Publication Date: July 31, 2012
Publisher: Harlequin Teen
The Cover Contessa's Review:
I want to thank Harlequin Teen for providing me with a copy of this book at BEA to read and review. I had heard such great things about this series, but I was not sure if I wanted to start it as I've had no luck with contemporary YA reads for a very long time. I'm so glad I picked this one up! Receiving this book for free has in no way influenced my opinion or review.
As I said, my track record with contemporary reads as of late has not been good. I've read so many and haven't been able to give any of them above a 3. So I went into this tentatively with the hope that I would at least like it and it would hold my interest I am SO glad I did! This book was fabulous! I really got drawn into Echo and Noah's story and was routing for their love though out!
I love this cover. Not only do I love this cover, but I love that you can take off the dust jacket and it is printed right on the actual book. It's GORGEOUS! I have never seen a book like this before. It makes me just want to touch it!
What can I say about the characters in this book except that I love them. McGarry does such a great job with developing them and making them so realistic that you just can't help but be drawn in by them!
Echo, she's an interesting girl. She has her secrets, secrets she doesn't even know because she doesn't remember what they are! She is so complicated. You want her to remember, but at the same time you know it will cause her pain. And she seems to be going through so much pain already you really don't want her to experience it! So she keeps to herself, although she does have a few friends, and doesn't let anyone in. That is until she begins to interact with Noah, and is completely dean to him. But her damage prevents her from opening up to him and letting him in for the most part, despite the fact that he wants to know her and what she's about. I was able to completely connect with her and understand her actions.
Noah, well he's the good boy gone bad. Also plagued by a tragic past, he allows himself to be seen as this bad boy who does what he wants when he wants without thinking how the consequences will effect others. But he's broken and really his motive is just to mend his wounds by making sure what he has left of his family is ok. He's fiercely protective and this lends to his charm that draws him to echo. He wants to protect her and understand her. His intentions for both his brothers and Echo are pure, even if a bit misguided.
And the secondary characters are just awesome. I love Isaiah and Beth, even though I don't get much from them. And it would be nice to know more about Echo's friends.
The plot moves along swiftly. There are no slow spots. No spots where I wanted to put the book down or where I rolled my eyes. Did I think sometimes Echo and Noah's reactions were over the top, maybe a bit. But given their tragic pasts, I can understand how they might react at they do. I'm still not sure this would necessarily happen in real life. I haven't been a teen for a very long time so what do I know of from their reactions? I know they can be very over the top at times, so such reactions would not surprise me. And we see some major growth and development from both characters throughout the book, which lends to their likability. They become stronger and more resilient as the book progresses and this makes you want to see their story through more and more.
As for McGarry's writing, well, it's really quite phenomenal. There are no information dumps, things are slowly revealed as you need to know them. She unfolds the story in such a way as to keep you interested and totally curious as to where the characters will end up. I enjoyed watching McGarry show Noah and Echo grow and change and realize they have control over their destinies if only they take the reigns. I love that McGarry chose to give us both Noah and Echo's POVs. It was nice to watch them interact that way and really demonstrated how important it is to see each character through more than one set of eyes!
Overall I truly loved this read. Why the 4 stores, because despite being able to relate to the characters, I did find there was something missing with them, though I can't put my finger on it. Would I recommend this book, absolutely. Would I read other books by this author, no doubt in my mind. McGarry has certainly opened my eyes to what a great contemporary YA read can actually look like!
KATIE MCGARRY was a teenager during the age of grunge and boy bands and remembers those years as the best and worst of her life. She is a lover of music, happy endings, and reality television, and is a secret University of Kentucky basketball fan.
Katie would love to hear from her readers. Contact her via her website, katielmcgarry.com, follow her on Twitter @KatieMcGarry, or become a fan on Facebook and Goodreads.