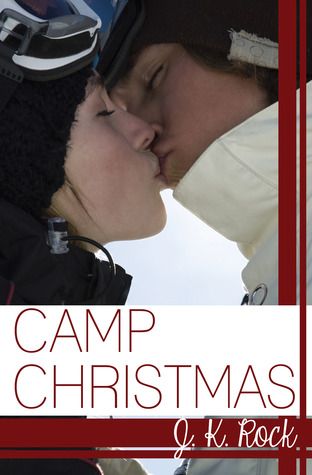 Hannah never meant to be a mean girl – at Camp Juniper Point or at her high school. It just sort of happened during one painful year when her parents split and her life fell apart. Who knew being mad at the world would catapult her to popularity? But since changing the status quo would make her some serious enemies, she's prepared to ride out her time until graduation. That is, until a camp friend calls her on the act during their school ski trip. Will Julian out her to her friends? Or will the guy she once accused of being King of the Nerds make her wish she was a whole lot more like him?
Title: Camp Christmas (Camp Boyfriend #1.5)
Author: J.K. Rock
Publication Date: December 17, 2013
Publisher: Spencer Hill Press
Free Download:
The Cover Contessa's Review
That was just perfect. I think Julian is my new book boyfriend for sure!
I was so excited to download this PDF this morning and read it! I knew I was going to love it. I loved Camp Kiss, and Camp Boyfriend, so what's not to love about a story that takes place in a cold setting where you know things are just going to heat up?
This is Hannah's story, yep, that Hannah of the Diva Den. And she's such a snob, so worried about what others will think of her and how she can maintain her popularity even as her world outside her precious uppity school is falling apart. But it's more important to her to maintain that front so she can get through school. She doesn't want to get thrown under the bus. And she has this love/hate relationship with her friends which is just weird to me (as I never experienced this) but I totally get it and know where it's coming from. BUT, Hannah begins to grow and let go in a short span of time. As a matter of fact, I'm pretty sure she was already cracking before this little ski trip, but she was putting up a great front to stop from splitting in half.
Introduce Julian to the mix. He's the boy nerd, the one everyone stays away from. He wears a cape for goodness sakes! But, suddenly he's not what he used to be. Where there was nerd, now there's this really intelligent guy who can take care of himself. The guy who puts all those years as a Boy Scout to work. The one who listened and learned and kept it all in his mind. At the same time, there's this guy who has learned to love himself and not care what others think, well, everyone except perhaps for Hannah. He's got it bad for her. And, while it seems she's always been out of his reach, he takes a chance in this novella and makes a move to break into her frosty front.
I just loved the pace of this story. It really was a quicke and satisfying read. It ties nicely with the fact that the main characters know each other from Juniper Point. Yet they keep this a secret, Hannah because she's fears her popularity and Julian because he wants to make Hannah happy. I love how in just a short span of time we see both characters really come into their own (although I think Julian was already kind of there). And I love that JK Rock gave us dual points of view. It's always so great to see a story from both sides. I feel like I get so much more from the characters when I can actually see things through their eyes (instead of how they are seen through the eyes of others).
So kudos to JK for giving us a little trinket while we await the publication of the next Camp Boyfriend book. now more than ever I can't wait to see where it leads. And I really hope the publisher decides to put this one out in print as they did Camp Kiss!
Writing partners Joanne and Karen Rock pen Young Adult books as a team in addition to solo careers as adult romance writers (learn more below). Married into the same big, boisterous clan, Joanne and Karen quickly bonded over a shared love of books. After a decade of re-plotting their favorite films during family parties, they decided to write a book of their own. They sold their first attempt to the
Spencer Hill Contemporary imprint for Spencer Hill Press as the launch title
.
Joanne and Karen are busy plotting new camp stories and look forward to meeting readers next summer when they're not doing interviews online or blogging on theScene 13 blog on the 29th of each month. Check out Karen's recent appearance on the USA Today blog, Happy Ever After! They love to hear from readers, so please contact them with questions or comments about their work.
In this electrifying sixty-page companion novella to the
New York Times
bestselling Shatter Me series, discover the fate of the Omega Point rebels as they go up against The Reestablishment. Set during and soon after the final moments of
Unravel Me
,
Fracture Me
is told from Adam's perspective.
As Omega Point prepares to launch an all-out assault on The Reestablishment soldiers stationed in Sector 45, Adam's focus couldn't be further from the upcoming battle. He's reeling from his breakup with Juliette, scared for his best friend's life, and as concerned as ever for his brother James's safety. And just as Adam begins to wonder if this life is really for him, the alarms sound. It's time for war.
On the battlefield, it seems like the odds are in their favor—but taking down Warner, Adam's newly discovered half brother, won't be that easy. The Reestablishment can't tolerate a rebellion, and they'll do anything to crush the resistance . . . including killing everyone Adam has ever cared about.
Title: Fracture Me (Shatter Me #2.5)
Publication Date: December 17, 2013
The Cover Contessa's Review:
Wow, I can't believe I'm going to say this, but this novella was not what I expected from Adam. I expected him to be strong and fight for things. And, while he did fight for his brother, he kind of let other things go so easily and it really made me mad. I'm mad at him for not wanting to fight harder for Juliette. It's like he's totally given up and just let go. Totally accepted that, while he would love to spend the rest of his life with her, they will just be apart. It mad me angry, and unhappy, and I really just want to cry. Where is the fighter we grew to love, the one who would risk anything for Juliette?
Honestly, I totally love Mafi's writing. However, I will say that this novella is not as poetic as the books and Destroy me were. I actually felt there was something lacking that drew me in in Mafi's other works.
And I know there's a reason that she let us into Adam's mind. Perhaps because we've only ever seen him from Juliette's point of view, and she views him as totally strong and able to keep it together. This novella showed his vulnerability. It showed he is human, able to bend and break. I guess that's not so bad, but it still made me mad. I've come to know him as the guy who can fix things, who can keep it together, but he was just falling apart and it was too hard to see.
I had originally given this novella a 4 rating, even wavered on a 3, as Adam was not what I was expecting. But upon further thought, I realized that the point of this novella was for us to see exactly how Adam thinks, and why he reacts the way he does. So I changed my mind and bumped it to a 5 because, while I might not love what I see, I have to respect that this is who he is. have to realize that seeing him only from Juliette's point of view is not who he truly is, it is only who she views him to be.
So, Adam is broken, he's been fractured and he's falling apart at the seams. It seems this is what Mafi wants us to see. Warner is taking a forefront and becoming the rock that Juliette can lean on. And it's making me mad because, while I actually had a bit of a change of heart for Warner from Destroy Me and Unravel Me, I still do not want him to end up with Juliette. Because seeing Adam break further would just cause my heart to crack. So, I am hopeful that his being torn down in this novella will be the impetus for him to climb back out of his hole and fight for what he wants.
So kudos to Mafi for taking a chance and showing us the real Adam. I can't wait to see what the future holds!
is the New York Times and USA Today bestselling author of the SHATTER ME series. She was born in a small city somewhere in Connecticut and currently resides in Santa Monica, California, where she drinks too much caffeine and finds the weather to be just a little too perfect for her taste.
When unable to find a book, she can be found reading candy wrappers, coupons, and old receipts.
SHATTER ME is her first novel.
Foreign rights have sold in 25+ territories
to-date and film rights have been optioned by 20th Century Fox.
Her work is represented by
Jodi Reamer of Writers House, LLC.
Set just before the events of Into the Still Blue, the conclusion to Veronica Rossi's Under the Never Sky trilogy, this breathtaking novella is a satisfying stand-alone for new readers as well as an exciting glimpse at favorite characters from the trilogy. Pulsing with romance and danger, Brooke will leave readers desperate for the conclusion to this epic and unforgettable saga.
The only fight she can't win is the one for Perry's heart. Following the stunning climax in Through the Ever Night, the Tides have been forced to seek shelter from the Aether storms in a dismal, secluded cave. But Brooke's memories of the cave go back much further, to when she and Perry used to come here together. That was before Perry fell in love with Aria and before Vale's dealings with the Dwellers altered the course of the Tides forever.
Now, with her sister back from a haunting year in captivity and Aria lying unconscious in the sick bay, Brooke struggles to put the pieces of her life back together. Without Perry, who is she? And what is her role in this frightening new world? As these questions swirl about her, an old threat to the Tides resurfaces, and Brooke is forced to put the lives of her people before her own. But in taking this step outside of herself, Brooke may finally discover what she truly wants
Title: Brooke (An Under the Never Sky Story #2.5)
Publication Date: November 26, 2013
The Cover Contessa's Review:
Holy crud, Veronica Rossi is MY GIRL! This short was totally and completely amazing! I loved every last word of it! I can' teen begin to tell you how much!
Brooke is amazing. She's so not what you think she is. This short shows her growth in so many ways it's hard to express. She is so in love with Perry, at least she thinks she is. But as the story progresses, she begins to grow and understand what their relationship really was about. And she experiences these changes by watching the interactions of all the people who surround her.
I think what I love about Brooke is that she's so strong, yet she's also vulnerable. But she doesn't want people to know she is vulnerable. And she cares, about everyone, even if she seems like she doesn't. She is so much more complex than you thought she was, believe me!
So, you think you dislike Brooke, right? You think she only wants to come between Perry and Aria, yes? Well, read this and prepare to have your mind blown.
I happened to get an ARC of Into the Still Blue and read it before this. I didn't understand the changes that took place with Brooke in the book. But now that I've read this novella I completely understand where she is coming from!
So pick it up and give it a go before diving into book #3!
Veronica Rossi
is the author of post-apocalyptic fiction for young adults. Her debut novel, UNDER THE NEVER SKY, is the first in a trilogy. Released in January 2012, it was deemed one of the Best Books of Year by School Library Journal. The second book in the trilogy, THROUGH THE EVER NIGHT, debuted in January on the NY Times and USA Today Best Seller Lists. The final book in the series, INTO THE STILL BLUE, is expected to release January 2014.
Foreign rights to the UNDER THE NEVER SKY trilogy have sold in over twenty-five territories to date and film rights have been optioned by Warner Bros.
She completed undergraduate studies at UCLA and then went on to study fine art at the California College of the Arts in San Francisco. She lives in Northern California with her husband and two sons. When not writing, she enjoys reading, painting, and counting down the minutes until she can get back to making up stories about imaginary people.