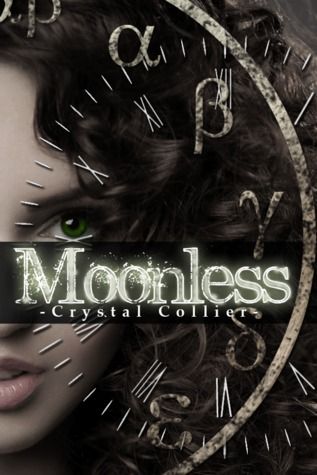 MOONLESS is Jane Eyre meets Supernatural.
In the English society of 1768 where women are bred to marry, unattractive Alexia, just sixteen, believes she will end up alone. But on the county doorstep of a neighbor's estate, she meets a man straight out of her nightmares, one whose blue eyes threaten to consume her whole world—especially later when she discovers him standing over her murdered host in the middle of the night.
Among the many things to change for her that evening are: her physical appearance—from ghastly to breathtaking, an epidemic of night terrors predicting the future, and the blue-eyed man's unexpected infusion into her life. Not only do his appearances precede tragedies, but they are echoed by the arrival of ravenous, black-robed wraiths on moonless nights.
Unable to decide whether he is one of these monsters or protecting her from them, she uncovers what her father has been concealing: truths about her own identity, about the blue-eyed man, and about love. After an attack close to home, Alexia realizes she cannot keep one foot in her old life and one in this new world. To protect her family she must either be sold into a loveless marriage, or escape with the man of her dreams and risk becoming one of the Soulless.
Title: Moonless
Author: Crystal Collier
Publication Date: November 13, 2013
Publisher: Raybourne Publishing
Crystal's Review:
The only reason I'm not giving this book 5 stars is because
I wanted MORE - and I truly felt at times that Crystal could
have elaborated more on a storyline. But that's really the
only thing even close to a negative I can say about this
book. I can only hope that the small holes in some of the
characters' backstories is because there's a prequel in the
works. That would make me IMMENSELY happy.
Alexia's world is forever changed on her 16th birthday. She
seems to transform into a beautiful being that she hardly
recognizes in the mirror, but she discovers a world that she
never dreamed existed - and that's she is a part of it. Or
could be if she chooses to be. This book is filled with
heart pounding terror (Bellezza absolutely terrifies me),
heart wrenching love and heartbreak, dark family secrets,
and creatures that pretty much want to eat your soul (but
Bellezza is still scarier!). I had nightmares, but it was
worth it lol.
Crystal
Contributing Reviewer for
www.thecovercontessa.com
"MOONLESS is powerful, compelling, and packed with soul. So many threads, such rich backstory. Such amazing world-building. It was familiar England, yet always hinting at a sense of Otherness. Made me wonder if those things had really been there all along and I missed them." --
Bethany Kaczmarek, A Little Red, Inc.
"Collier transports us to a time of elegance and mixes in supernatural splendor that gives goosebumps." --
Sharon Johnston, author of SLEEPER
"I fell head over heels for the characters. The story itself was magnificent and the way Crystal writes is beyond that. I truly enjoyed every minute." --
T.C. Mckee, BookFish Books
"Moonless does a fantastic job building a complex world filled with a cast of characters that are individuals and stay in your memory. I highly recommend reading!" --
Rachel Hert, Fantasy Editing
Crystal Collier, author of MOONLESS, is a former composer/writer for Black Diamond Productions. She can be found practicing her brother-induced ninja skills while teaching children or madly typing about fantastic and impossible creatures. She has lived from coast to coast and now calls Florida home with her creative husband, three littles, and "friend" (a.k.a. the zombie locked in her closet). Secretly, she dreams of world domination and a bottomless supply of cheese.