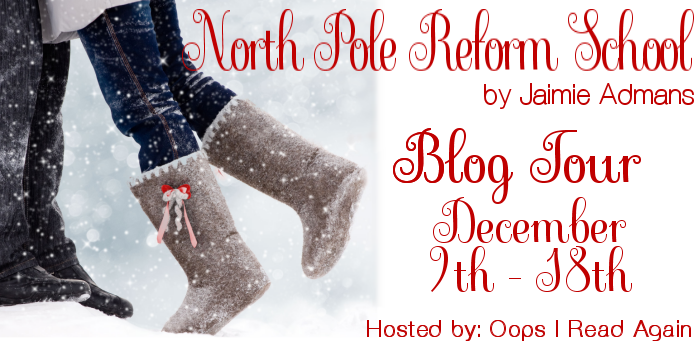 Date of Publication: November 6, 2013
Genre: YA rom-com, fantasy
Mistletoe Bell hates Christmas. So would you if you had a name like hers. Her Christmas-mad parents make the festive season last all year, and with another Christmas looming, Mis doesn't think she can take any more. After her carelessness causes an accident at school, it seems like things can't get any worse.
Then she wakes up to find The Ghost of Christmases Ruined in her bedroom.
She is taken to the North Pole, to a reform school run by elves determined to make her love Christmas. Stuck in a misfit group of fellow Christmas-haters with a motley crew of the weird and even weirder, watched over by elves day and night, she doesn't expect to meet cute and funny Luke, who is hiding a vulnerable side beneath his sarcastic exterior. She doesn't expect to fall in love with him.
But all is not as it should be at the North Pole. A certain Mr Claus is making the elves' lives a misery, and pretty soon Mistletoe and Luke are doing more than just learning to like Christmas.
A YA romantic comedy in which Santa is the bad guy, teaching reindeer to fly is on the curriculum, and zombies have a fondness for Christmas music.
Suitable for older teens and upwards due to bad language.
Today, Jaimie is going to tell us a bit about her winter traditions! Take it away, Jaimie!
Winter Traditions
I always think my winter traditions are a bit boring compared to everyone else's! I adore the autumn/winter season and look forward to it every year. I'm not a big fan of hot weather, so I can't wait for when the summer is over and it starts to cool down. That time of year when you can get the warm blankets out of the wardrobe, get the winter boots out and start drinking hot chocolate in the evenings. I absolutely love scented candles too, so the spring/summer ones get put away and the autumn-y and winter-y ones come out.
When it comes to Christmas, I love it and everything to do with it. The complete opposite of the characters in North Pole Reform School! I'm like a big kid at Christmas. I usually have to stop myself putting the decorations up before December, but I put Christmas music on as soon as I can. I was overjoyed this year to find the internet radio station I listen to most over the festive season started playing Christmas tunes in late October! And the Christmas movies started on TV nice and early too. I adore Christmas movies, and one of my traditions is going to bed early and curling up in front of a Christmas movie on the TV! I do this as many nights as I can manage it in December. I will watch anything even remotely related to Christmas, no matter how bad it is!
Work-wise, I find it very difficult to write Christmas stories when it's not actually Christmas, so I save all my festive writing for November/December too, and the festive feeling and music and movies make it easier to get into the right frame of mind for Christmas writing!
My favourite Christmas tradition, which is a bit boring compared to everyone else's, is that sometime towards Christmas, it will be the night we watch National Lampoon's Christmas Vacation, and the night the tin of Quality Street gets opened. This is my absolute favourite Christmas movie, and we watch it every year, with Quality Street, and without fail. It's just not Christmas without Chevy Chase!
Jaimie is a 28-year-old English-sounding Welsh girl with an awkward-to-spell name. She lives in South Wales and enjoys writing, gardening, drinking tea and watching horror movies. She hates spiders and cheese & onion crisps. She has been writing for years but has never before plucked up the courage to tell people. Afterlife Academy is her third novel and she hopes you enjoy it. There are plenty more on the way!
a Rafflecopter giveaway