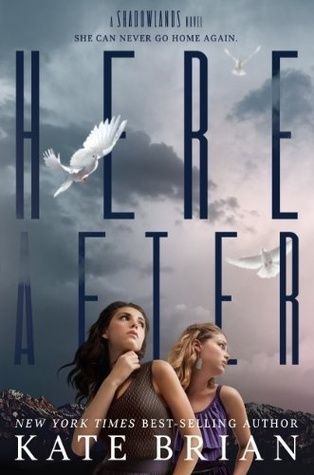 Rory Miller thought her life was over when a serial killer set his sights on her and forced her into witness protection. But a fresh start on Juniper Landing Island was exactly what she and her family needed. For the first time in years she and her sister hang out at the beach, gossip about boys, and party together. She's also made friends with a local clique--including a magnetic and mysterious boy named Tristan.
But Rory's world is about to change again. Picturesque Juniper Landing isn't what it seems. The truth about the swirling fog that rolls in each morning, the bridge that leads to nowhere, and those beautiful locals who seem to watch Rory's every move is more terrifying than being hunted by Steven Nell. And all Rory ever wanted was the truth. Even if it means learning that she can never go home again. From the best-selling author of the Private and Privilege series comes the second novel in a heart-stopping trilogy about a girl who must pick up the pieces after the only life she's ever known ends
The Cover Contessa's Review:
I want to thank Disney Hyperion for providing me with an ARC of this book at BEA to read and give an honest review. It was so great to see Kate Brian once again and chat with her a bit about things. Receiving this book for free has in no easy influenced my opinion or review.
If you haven't read the first book in this series, you might want to stop before moving on as there will be spoilers for the first book. And, since the first book lands a huge cliff hanger, then you might be totally disappointed when I tell you what happened!
This book picked up immediately where the last book left off. At the end we are given the shocking conclusion that everyone on Juniper Landing is dead. That Juniper landing is not the vacation island Rory and her family thought it to be.
Once again I am in love with the cover of a Disney book. It's just utterly beautiful with the colors and the girls on the front. It's simple and yet conveys an important message with the birds flying around.
Rory continues to be her inquisitive self as she was in the first book. Her mind is always working, always trying to find the truth. So once she finds out that the island is a place where the dead come, she needs to find out the truth of why she and her family are there and what their purpose is. Once Rory is told that she's a Lifer, things come more into focus. But she's having a hard time accepting the reality that she may soon be separated from her family for good. And she wants to try and do everything she can to stop this from happening. But the evil that lurks on the island is changing things for the Lifers and things are slowly starting to deteriorate. When Rory realizes things are not right, she has a hard time getting people to listen, especially Tristan, who she has felt a connection with since landing on the island. Rory continues to be quite a fearless and kick butt character, but you do see her emotions come through quite a bit in this book.
Tristan himself is quite mysterious. He certainly seems like he's attracted to Rory, but when things start to heat up he backs off and throws her into total confusion. Slowly we learn that Tristan has been on the island for a long time, and that most if not all the Lifers listen to what he has to say because he has the most experience. I have to say that I would have liked to see more character development with Tristan. He's a bit flat. I do understand the reasoning behind us not getting too deep into his mind, but it bothered me a bit.
We do get a bit more of Juoquin in this book; more of a look into who he is and why he is the way he is. And Brian fleshes out some of the other minor characters as well. We don't get much more from Rory's father or sister, which is a bit annoying. They are just kind of in the background. And we also meet some new characters, one of whom seems to have huge chip on her shoulder for Rory from the very beginning. It's a bit annoying not understanding the reasoning for this until closer to the end of the book.
And interesting twist is the unknown POV that Brain includes in the book. It's not often that we see it, just a few chapters, but it's a look into the evil that lurks on the island. I tried my hardest to figure out who it was throughout the boo, but I couldn't. And even in the end, when things are "revealed" I still don't think it's who it appears to be. The voice creates a feeling of mystery and suspense and definitely left me with an unsettled feeling in my stomach!
Brian has amazing pacing, as she did in the first book. I finished this in one sitting. There's action and adventure and mystery and it keeps you wanting to read from chapter to chapter. The book definitely leaves you with a heart pounding that propels you to want to know what will happen next. It's intense for sure. And Brian's writing is spot on. It's easy to follow and flows well. I also loved how Brian built more of the world, showed us more of the island and all it's intricacies, although there still seems to be a bit of mystery that I hope is cleared in the next book. And the romance does not overpower the book too much. Sure, Rory does some pining, but what average teenage girl doesn't. And there's just a hint of a love triangle given, although it's not fleshed out and I wonder if it will go anywhere in the next book.
Overall I truly enjoyed this book as much as the first. I love the story telling and the premise. It's totally different from anything else I've ever read. And, while the ending is wrapped up enough not to leave you with your jaw hanging, you still want the next book yesterday so you can see where things end up!
Kate Brian is the prolific author of many books for teens including the Private series, the new Privilege series, and Sweet 16. She lives with her husband in New Jersey. She writes under the pseudonym Kate Brian, instead of using her real name: Kieran Scott.