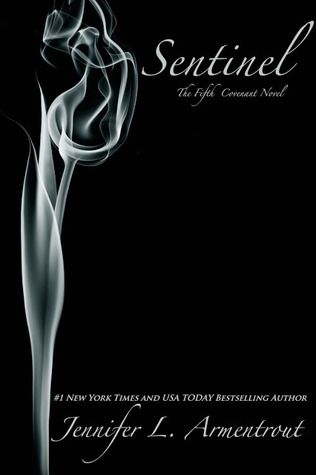 Blurb from Goodreads:
It's a beautiful day for a war.
As the mortal world slowly slips into chaos of the godly kind, Alexandria Andros must overcome a stunning defeat that has left her shaken and in doubt of their ability to end this war once and for all.
And with all the obstacles between Alex and her happily-ever-after with the swoonworthy Aiden St. Delphi, they must now trust a deadly foe as they travel deep into the Underworld to release one of the most dangerous gods of all time.
In the stunning, action-packed climax to the bestselling Covenant series, Alex must face a terrible choice: the destruction of everything and everyone she holds dear… or the end of herself.
Title: Sentinel (Covenant #5)
Author: Jennifer L. Armentrout
Publication Date: November 2, 2013
Publisher: Spencer Hill Press
The Cover Contessa's Review:
I want to thank Kate Kaynack at Spencer Hill Press for sending me a copy of this book when my copy was backed up on Amazon! I could not wait to get my hands on this and see the conclusion of one of my all time favorite series! And I was not disappointed. As usual, Armentrout kept me on my toes through this whole book and I had NO idea how it would end!
I will honestly say that while I love this cover it is not my favorite of the series. When it was released, I was actually disappointed. I saw a mock up of a cover that I LOVED. It was a turquoise blue and just oh so beautiful. I thought for sure that was going to be it, but I was wrong and that made me sad. But, you can't love all covers now, can you?
I could probably write a whole book about how this series makes me feel. As a whole it gets an A in my book for sure. I love the characters, the action, the romance, the situations you think will never turn out right. Armentrout takes the bull by the horns and tosses him around like he's nothing. There's no doubt in my mind that at some point I will read this series again (and I DO NOT re-read books!).
I was excited to see Alex is back to her good old self in this book: snarky, loving, a little selfish but in a selfless sort of way, and mostly just a kick butt heroine. I don't find her to have tons of angst, which always makes me happy because angst totally pulls me right out of a story. And her loyalty is undying, which makes her even more lovable in my book! Alex always rises to the occasion, and this book is no different.
And Aiden, well, he is my ultimate book boyfriend. Talk about fiercely loyal. He loves Alex for who she is, no strings attached, no cares as to what others think. He makes her his world and it's amazing to watch it flourish so much more in this book because they are not afraid of who knows the truth. The only issue I had with him in this book is he really did say Agapai mou WAY too many times. I don't think there was a conversation with Alex he had in this book that didn't include this phrase. When I was first introduced to the phrase, I loved it; I cherished when he would say it. But in this book it was a bit over done. That made me sad. I wanted it to be something that he said when it needed to be said. And, while I'm all for people telling each other they love each other, it was just a bit overboard for me.
Seth, well, I'm still not sure what to think. I hate him, but I love him. I hate that he has been such an idiot in the past. I hate that he let power consume him and blind him to what is right and just. And yet, I love how he tries his hardest to redeem himself. And how he gives up everything so that Alex can be happy. I was wary of the fact that Alex knew right away that Seth was willing to help them as opposed to hinder them, but I guess that is the Apollyon connection?
I love the plot of this book, although I found the pacing a bit slower than the previous books. I can honestly say I really had no idea where it was going or how it would end. Every situation the characters were put in ended in some catastrophe, despite the fact that they made it through. I did think I would shed more tears in this book than I did, but it didn't happen, until the end. I had some tears there, but then they were happy tears. There are so many emotions that this series brings. And the story itself is one of sacrifice, love, hate, hope, sadness, happiness, and loyalty, and I could go on and on
As for Jennifer's writing, well, it's her writing, which I always enjoy. She really knows how to pack power into her words and her world. My favorite part of how she writes is how she always interjects humor into what she's doing. She loves to lighten the mood when things are looming over her characters.
Overall, the ending was not what I expected. I was happy that things turned out the way they did, don't get me wrong, but I was just wanting more of a fight, more of the heart wrenching sadness that would make me want things to turn out differently. The book certainly has a ton of great moments. Times when I thought for sure it was all over and I would want to throw the book across the room. Was it worth the wait, sure it was, I needed to get my conclusion for the series. But, again, it was not what I was expecting and, while it did not leave me hanging and wrapped things up in a nice package, I just feel like I am missing that little something that would have made this series go out with a bang for me.
All the rumors you heard about her state aren't true.
Well, mostly. When she's not hard at work writing, she spends her time, reading, working out, watching zombie movies, and pretending to write.
She is the author of the Covenant Series (Spencer Hill Press), the Lux Series (Entangled Teen), Don't Look Back (Disney/Hyperion) and a yet untitled novel (Disney/Hyperion), and new YA paranormal series with Harlequin Teen.
Jennifer also writes New Adult and Adult romance under the pen name J. Lynn. The Gamble Brothers Series (Tempting the Best Man/Tempting the Player) and Wait for You. Under her pen name, she is published with Entangled Brazen and HarperCollins.