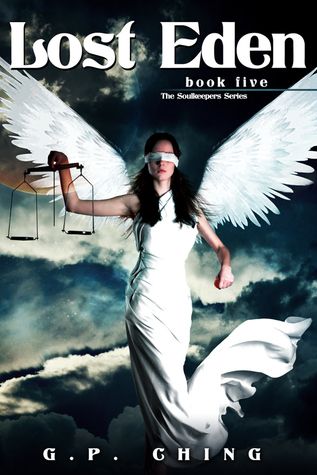 Lost Eden by G.P. Ching
(The Soulkeepers #5)
Publication date: November 18th 2013
Genres: Paranormal, Young Adult

Synopsis:
Rules. Balance. Consequences. War.

When Fate gave Dane the water from Eden to drink, she did more than save his life. She changed his destiny.

Since the beginning, a compact between God and Lucifer has maintained a tenuous peace, balancing Soulkeepers and Watchers and the natural order of things. Dane upset that balance the day he became a Soulkeeper. Fate broke the rules.

Now, Lucifer is demanding a consequence, requiring Fate to pay the ultimate price for her involvement. God intervenes on the immortal's behalf but in order to save her soul must dissolve the compact and with it the rules, order, and balance that have kept the peace. A challenge is issued. A contest for human souls begins. And the stakes? Earth. Winner take all.

The Soulkeepers are at the center of a war between Heaven and Hell, and this time, nobody, anywhere, is safe from Lucifer's reach.
5 Ways to be a Soulkeeper this Holiday
It seems like only yesterday I was releasing the first book in my Soulkeepers series. Releasing book 5 is almost surreal. As I prepare to complete the series, I'm reminded of what it means to be a Soulkeeper and how thankful I am for the real-life Soulkeepers out there. Here are five ways you can be a Soulkeeper this holiday season.
Bell Ringing- two hours of your time could go a long way toward raising funds for the Salvation Army, an organization that houses and feeds the most vulnerable among us. It's fun, easy, and the Salvation Army makes it simple to sign up for a slot. Visit this site for more information http://salvationarmynorth.org/volunteer/bellringing .
Collect and Donate – Coats for the homeless and cans for the food drive are things you might do every year, but don't forget your local Humane Society. Homeless dogs and cats need love too. Many times humane societies need used towels and blankets for the care of the animals. (Call yours first to check for their specific needs.)
Deck the Halls- Many retirement home residents don't have family and often the home itself can't afford the time or expense of decorating. Check with your local hospitals and convalescent homes for opportunities to use your crafty talents to spread the holiday cheer.
Provide, Cook, or Serve a Meal- Chances are your local mission has opportunities to help with serving meals this holiday. Usually you have the choice of donating toward the cost of the meal, helping to cook, or serving the residents.
5

Reach out – To the person in your life that needs a friend. Charity starts at home. Think about the neighbor or family member most in need of compassion and offer it. Sometimes just extending an invitation to dinner can make a huge difference.
There's no better way to relax after a day of charitable giving than with a good book! I'm so excited to bring you this installment in the series. I hope you will find some time to enjoy Lost Eden.
G.P. Ching is the author of The Soulkeepers Series, Grounded, and a variety of short fiction. She specializes in cross-genre paranormal stories, loves old cemeteries, and enjoys a good ghost tour. She lives in central Illinois with her husband, two children, and one very demanding Brittany Spaniel. Visit her at
www.gpching.com
and
www.thesoulkeepersseries.com
.
Author Links:
Website:
http://www.gpching.com/
Facebook:
https://www.facebook.com/pages/GP-Ching/254188694618137
Twitter:
https://twitter.com/gpching
Goodreads:
http://www.goodreads.com/author/show/4666971.G_P_Ching
a Rafflecopter giveaway