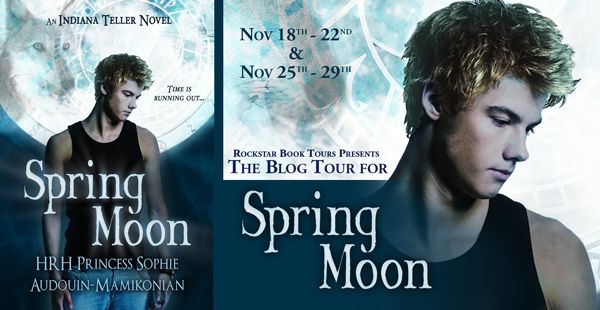 Welcome to the Spring Moon Scavenger Hunt hosted by RockStar Book Tours!


Title: SPRING MOON by HRH Princess Sophie Audouin-Mamikonian
Publication: November 5th, 2013 by Entangled Teen
Amid the expansive plains of Montana, the Lykos Ranch stretches for miles. The inhabitants who live in near isolation from the outside world are members of the most powerful clan of werewolves in North America. Among them lives just one human: Indiana Teller.
Grandson of the clan's leader and offspring of a werewolf father and a mysterious yet human mother, Indiana is rejected by his peers and heads to the University of Montana to find a normal life. Despite warnings from his grandparents, he falls in love with a beautiful human, Katerina.
Before too long, he is the victim of an accident that would have killed him had he not miraculously vanished at the moment of impact. Are these strange occurrences just chance or the machinations of a hidden enemy out to destroy him? Facing his destiny, Indiana will have to choose who to believe, and who to love.
This stop is part of the scavenger hunt. Find the word you're looking for highlighted in the passage below and continue on tomorrow to the next tour stop to get the next clue (tour stops posted below):
It seems the doctor at our hospital cut the umbilical cord, and my mother smiled and vanished, leaving behind an empty hospital gown. My father was so startled he almost dropped me. Just as suddenly, my mother reappeared. For weeks after that, my father was hailed as a messiah for bringing a time-tracker into the family.
Although she'd disappear, just her mind traveled, which is why time-trackers can go wherever they like; they're only limited by the speed of thought. No secret, code, or bank is safe from their power. Before my mother lost her mind, she'd told my grandparents that her body hung in limbo, someplace where it stayed warm and safe until her mind returned.
I think he hated it. He had fallen in love with a beautiful young woman, and now he was stuck with an alien who spent her time vanishing, fascinated by what she discovered on her travels.
As time passed, between her powers and my needs, Mom neglected Dad, which worsened once my grandparents started to use her. Thanks to her, we got very rich because by going into the past, Mom learned all the skeletons in the family closets.
And, to my father's and grandparents' great disappointment, I was not a werewolf.
About Princess Sophie:
Princess Sophie Audouin-Mamikonian is not your typical princess. In fact, she's a prolific author who works hard to perfect her writing. See what it is like to be in the shoes of a princess author.
a Rafflecopter giveaway
Tour Schedule:
Week One:
Week Two: