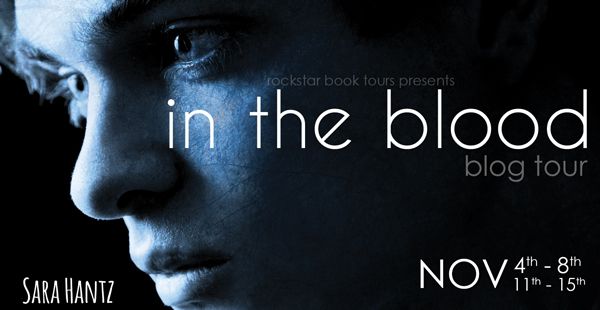 Welcome to the In The Blood blog tour hosted by Rockstar Book Tours
Title: IN THE BLOOD
For seventeen years Jed Franklin's life was normal. Then his father was charged with the abuse and murder of four young boys and normal became a nightmare.

His mom's practically a walking zombie, he's lost most of his friends, and the press camps out on his lawn. The only things that keep him sane are his little sis; his best friend and dream girl, Summer; and the alcohol he stashes in his room. But after Jed wakes up from a total blackout to discover a local kid has gone missing—a kid he was last seen talking to—he's forced to face his greatest fear: that he could somehow be responsible.

In a life that's spiraled out of control, Jed must decide if he chooses his own destiny with Summer by his side or if the violent urges that plagued his father are truly in the blood…
Mini Interview
1. Name an artist/author (dead or alive) that you would like to have dinner with.
Why? What would you ask them?
I'd love to have dinner with Elvis Presley. I love his music and am fascinated by how after so long since he died he's still so popular. I'd ask him if he could live his life over again what would he do differently.
2. Your character goes through a real life crisis and teeters on making a decision about his life. Have you had a similar crisis you are willing to talk about or a decision you've had to make that has been so difficult it's kept you up at night?
I haven't had a crisis similar to Jed's in In The Blood, however in the past I have been kept up at night. I can be rash when making decisions and sometimes I make a decision and then afterward start to think about it and then change my mind. This has happened in the past over big things, like putting an offer in for a house.
3. I want to see your perfect writing spot. Describe it in details and tell us why you would choose that spot. Would you have anyone by your side?
My perfect writing spot is very different from where I actually do my writing at present. In an ideal world I would be in my own office, which has a desk/computer against a window and which overlooks water, either the ocean or a river. In my office there would also be a sofa and a good sound system so I can listen to the radio. I wouldn't have anyone by my side, ideally I would be alone. I think this stems from the fact that I write while working at the moment so am always being interrupted and have to talk to people.
Sara Hantz comes from the UK and now lives in Australia (via 10 years in New Zealand). With a background in education, she lectured for many years before deciding to devote more time to her writing and working in the family business. She is also the author of Will the Real Abi Saunders Please Stand Up, and The Second Virginity of Suzy Green. Visit her online at sarahantz.com
Website
/
Blog
/
Twitter
/
Facebook
/
Goodreads
a Rafflecopter giveaway
11/15/2013-
Such A Novel Idea
-
Review