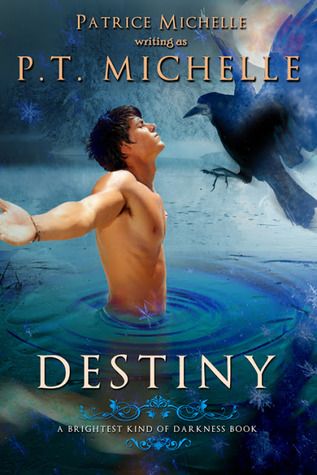 Destiny by P.T. Michelle
(Brightest Kind of Darkness #3)
Publication date: October, 2013
Genres: Paranormal, Romance, Young Adult

Synopsis:
When destiny is on the line, will love be enough to light the way?

In order to save Ethan, Nara gets pulled deeper into his dark world, where everything she thought she knew about Ethan and herself turns on its head. Ethan and Nara turn up the heat with bone-melting seduction and heart-rending moments, but surprising revelations, lies, treachery, betrayal, and unimaginable evil will challenge their relationship and their future together. As the stakes rise, encompassing more than just her relationship with Ethan, will Nara make the ultimate sacrifice?
Excerpt
Guilt makes my hands shake, so I press them to the car's window to hold them steady and bow my head. "This is just so hard. I'm trying to be understanding."
Ethan's warm hands cover mine, and he whispers in my ear, "It drives me nuts to see you with another guy, even if it's just something as simple as riding together to play soccer. I know exactly what he's thinking. I know, because I can't help but want you more when I see you all sweaty and running your heart out." He pauses to press his lips to my throat, murmuring, "Mmmm, salty and sweet."
Tilting my head, I give him access to my neck. I absorb the feel of his hard frame behind me, holding me up and supporting me, even for a few seconds. This isn't full on intimacy. At least I tell myself that as my body yields to his.
"I miss touching you so much." His lips slide up my throat and his fingers fold tight around mine, locking our left hands against the cold glass. I swallow hard, my heart hammering when his other hand falls to my hip to press me closer.
Running hard has intensified Ethan's appealing smell. Or maybe it's hearing him say how much it bothers him to see me with someone else that amps my attraction. All I know is…I don't notice the cold air or the thin layer of snow beneath our feet. His heat and intensity seduce me, making me want him so much my insides quiver and my nerves tingle with excitement.
I press my free hand to his jaw, enjoying the feel of his five o'clock shadow against my fingers. Ethan whispers my name and slides his hand up my shirt. My muscles flex as his fingertips trace slowly along my belly until they come to rest over my thrumming heart, and his thumb slides under my bra clasp. Skin to skin. Warmth melding into warmth. "

My

heart," he rasps before kissing my jaw and pressing his fingers closer, locking me against him.
P.T. Michelle is the author of the young adult series
BRIGHTEST KIND OF DARKNESS
. She keeps a spiral notepad with her at all times, even on her nightstand. When P.T. isn't writing, she can usually be found reading or taking pictures of landscapes, sunsets and anything beautiful or odd in nature.
LINKS: Website | Blog |
Twitter
| Facebook | Goodreads | Pinterest | Newsletter
a Rafflecopter giveaway