Welcome to the Allusive Aftershock blog tour hosted by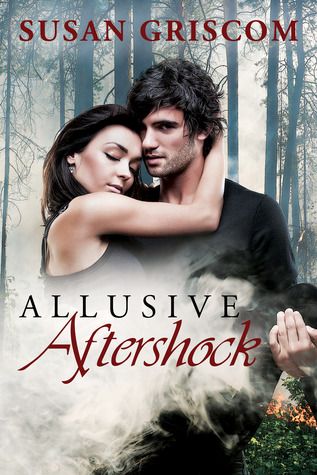 Allusive Aftershock by Susan Griscom
Publication date: December 18th 2012
Genres: Contemporary, Young Adult
What happens when a major earthquake changes life as you know it and the boy you thought you hated ends up saving you? Three times!

Courtland Reese is the guy everyone hates and makes fun of because … well, he is weird. He communicates with animals. Strange or interesting, seventeen-year-old Adela Castielle can't quite figure out, but when he saves her from being trampled by her own horse, she begins to understand him a little better and wants to learn more about him.

But, Max–her best friend/dream guy/someday-to-be-her-husband-only-he-doesn't-know-it-yet–hates Courtland with a passion. Adela wants to know why, except neither boy is talking.

When Max leaves her stranded in his parents' wine cave with his worst enemy, Courtland, after what the experts are calling a "megathrust" earthquake, Adela starts to question her loyalty to Max as steamy kisses in a dark damp cellar only fuel her emotions with more conflict.

But does she really have time to worry about that when fire, destruction and mayhem surround her?
Today, I welcome Susan for an interview!
So great to have you here today, Susan! Let's hear what you have to say!
Did you always know you wanted to be a writer or did you want to be something else?
When I was little, all I ever wanted to be was a mommy. So, I did that. Then they grew up. Now I'm a writer.
How long does it take you to write a book from start to finish?
It varies on the length of the book. With Allusive Aftershock, it took 30 days for the first draft. I wrote it during NANOWRIMO in 2010. It was 52,000 words long. I didn't pick it up again and work on it until August, 2012. Then three months later, it was 92,000 words.
How do you come up with themes for your stories?
Luck. LOL. Sometimes from movies and other books. Sometimes from real life.
Do you have a schedule of when you write?
No. I wish I could be that way. I know I am supposed to be that way, but life is too unpredictable. However, I do most of my writing between the hours of 9:00 am and 5:00 pm on and off every day.
How are you able to balance other aspects of your life with your writing?
Writing is my job now, so I try to tackle it that way, but like I said, life happens.
What elements do you think make a great story line?
Romance, strong heroes and heroines and a great premise that makes you go Wow!
What was the hardest thing about writing a book?
The hardest part for me is getting the plot to make sense and work. Flow properly and getting the timeline down.
How many books have you written so far? Do you have a favorite?
I have written four full-length novels. Three are out now, the third book in my
Whisper Cape
trilogy is due to be released in October 2013,
A Secret Fate
. I would have to say Whisper Cape was my favorite because it was my first and will always be dear to my heart. But Allusive Aftershock holds a special place as well because I had a lot of fun with the three characters; Adela, Courtland, and Max.
Do you have a favorite character?
My favorite character is Cael Sheridan from Whisper Cape.
I have an office in my home. I sit at my desk and work on a desktop computer. Every once in a while I will take a laptop to another location in the house just for a change of scenery.
When deciding on how to publish, what directed you to the route you took?
I had a publisher for my first book, but when they really couldn't do anything more for me than I could myself, I decided to go it alone.
12. Have you gotten feedback from family about your book(s)? What do they think?
I have a great support system. My husband gives me all the support I need and is very encouraging. My kids all read my books, well except my sons have trouble getting past the sex scenes in my adult paranormals, but I can't really blame them.
What kinds of things do you like to do outside of writing?
I like to quilt. The designing of them is another creative outlet.
What kinds of advice would you give to someone who wants to start writing?
Write. You can't just say you want to start writing. You just have to do it. It gets easier after that first sentence.
What is your favorite book? favorite author? Do you have an author that inspired/inspires you to write?
My favorite book is Valley of Silence by Nora Roberts. She would also be my favorite author and the one who inspires me the most. Cassandra Clare is another great inspiration for me.
Do you have any go to people when writing a book that help you with your story lines as well as editing, beta reading and such?
My husband for starters. Then I have beta readers. Amber Garza, Pam Ripling aka Anne Carter, Chelle Oslen, Tina Donnelly, Renee Miller, Dani Sovia, Trallee Mendonca, Anna Dase, Amber Garcia. They change with different books.
Are you working on anything now?
I am finishing up final edits on
A Secret Fate
, the third book in my Whisper Cape Trilogy and also writing
The Fawn
, a New Adult contemporary and don't let that title fool you, because it's not about a cute little deer, but the title is meaningful to the story.
Thank you so much for the fantastic interview and for having me on your blog today. It was fun.
Thanks for stopping by Susan! Great to have you here!
Susan Griscom daydreams often. And sometimes her daydreams interfere with her daydreams not to mention real life. Because, let's face it, her character's lives are so much more exciting. Sometimes it's young adult or new adult or just plain old mainstream fiction and sometimes it's paranormal romance, where her playing field delves into a different milieu than the usual vampires and werewolves. Some day she might write about fangs and fur, but for now she prefers sticking to strong heroes and heroines confronted with extraordinary forces of nature, powers and abilities beyond the norm, mixed with some steamy romance to get the blood boiling.
Susan lives in the Sierra Foothills in Northern California with her very romantic husband, her small yippy dog, Riley, and her humongous black cat, Saké. Her family consists of his and hers; four wonderful sons and one beautiful daughter, and seven grand angels.
Susan loves when a story takes hold and pulls her into the fantasy, that's magic.
You can visit Susan at
http://susangriscom.com
or email her at
susangriscom1@gmail.com
. She loves hearing from her fans.
Author Links:
a Rafflecopter giveaway