Welcome to the promo post for Jaymin Eve's
First World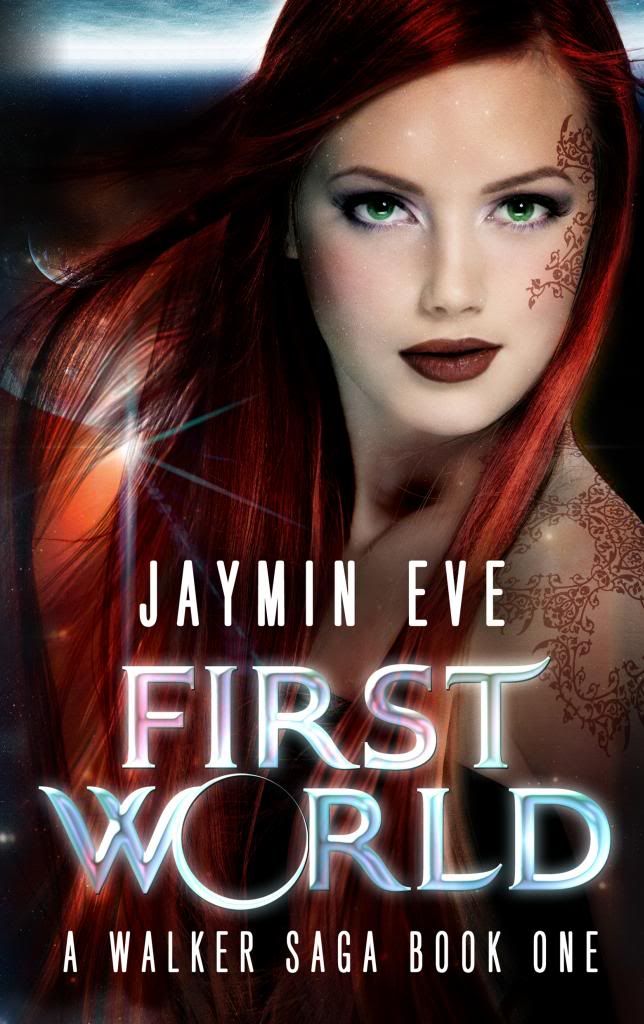 A paranormal romance series.
An epic journey.
If the Seventine are released, will anyone survive?
Abigail Swish might not love her life, living in gang-ridden New York in 2035 and training to fight and survive with Compound 23. But she is grateful for a few things, especially her no-filter-between-brain-and-mouth best friend Lucy and her escape each night into a dream world far different from her own.
In fact, sometimes she lives for the fleeting moments she spends at night with the man who fuels every romantic fantasy she's ever had. But each morning reality returns. She could just cry. But she won't of course; tears don't change a damn thing.
Then without any warning, a month before her eighteenth birthday, everything does change. A guardian finds her. He explains, in a strangely familiar accent, that she was stashed on Earth for safekeeping and has been lost to her family ever since. And it is time to return home. To the First World; a land of unimagined beauty.
Abigail and Lucy find themselves escaping New York, ending up on another planet and traversing through an unforgiving wilderness. Yeah, because that sort of thing just happens every day. Luckily an unexpected saviour arrives; the man from her dream-world. Brace is six-and-a-half feet of gorgeous perfectness, wrapped in an arrogance like no other. Unable to trust his assistance, and unsure which of her instincts to follow - kiss him or punch him in the mouth - Abigail eventually accepts his help to find her family.
And what a family. Enter Josian, her father; larger than life and apparently not even human. He is Walker, a planet-less race revered as gods, causing mischief and mayhem through-out this star-system. Unfortunately, there is no time for a cosy reunion, since no one explained that by returning to First World her half-Walker genetics would act as a catalyst setting forth a chain of events which could spell disaster for not only her existence but that of all worlds.
Did you always know you wanted to be a writer or did you want to be something else?
I started this journey as an avid reader, from the moment I discovered books it has been a true love affair. Then one day I realized that I had all of these ideas and storylines living in my head and when they started keeping me up at night I decided it was time. So I started writing and never looked back.
How long does it take you to write a book from start to finish?
First World took me a long time. I had a lot to learn (still do) and there were many … uh let's say humorous (poor) attempts at a story before the actual book emerged. Spurn, the second in the series took me 4 months, writing whenever I could escape my two little angels.
How do you come up with themes for your stories?
I planned the basic seven books in the Walker Saga before I started. Have a skeleton plan has definitely helped me develop the storyline. Although, my characters have a mind of their own, and keep deviating off to places I never expected. Still I am very excited to see what happens next.
Do you have a schedule of when you write?
Unfortunately I don't. I have two young children and they are my priority. Sometimes, I must drive them crazy, talking about my worlds, as if an 18 month old really cares. I like to think I'm starting their love of books at a young age.
What elements do you think make a great story line?
Hmmm, I know it is different for every person but for me I love a gutsy, fight-for-your-life romance, fast-paced action, a dose of reality but with heavy fantasy woven though out, and not too much heart-wrenching drama. If I wanted to cry every day I'd watch the news, I like to escape in my books.
Have you gotten feedback from family about your book(s)? What do they think?
Haha, my mother was the funniest, the first time she read it, before it had been edited or refined, the look on her face spoke volumes. She said, 'Abby is giving me a headache with her incessant talking.'

Luckily though, that gave me the kick I needed to get in there with my metaphorical red pen and cut all the extra words that I previously wouldn't let go off. After this event the response was positive from any family members who read it.
What kinds of things do you like to do outside of writing?
I love my family, I find a special type of joy in watching my daughters grow and learn. I love travelling and new experiences. My to-be-seen places around the world rivals my to-be-read book list. I love music, concerts, reading, arty projects (my latest was flower headbands) and food … I really love food.
What kinds of advice would you give to someone who wants to start writing?
Do it!! And don't ever stop, you will probably suck at first, but like everything you learn and get better.
Are you working on anything now?
I'm working on book 3 in the Walker Saga.
Thanks so much for stopping by today, Jaymin! It was so great having you here! Jaymin has generously offered 5 ecopies of her book! Enter via the Rafflecopter listed below.
Jaymin Eve is a twenty-eight-year-old Australian with the best job in the world. When she's not being a mother to two beautiful girls, you'll find her hammering away at her computer lost in her fantasy worlds, eating, travelling to far-off places for family fun and exploration, eating, going to concerts and eating out as often as possible. She also really loves reading and eating (in case you didn't notice) .
http://www.goodreads.com/user/show/21743273
a Rafflecopter giveaway