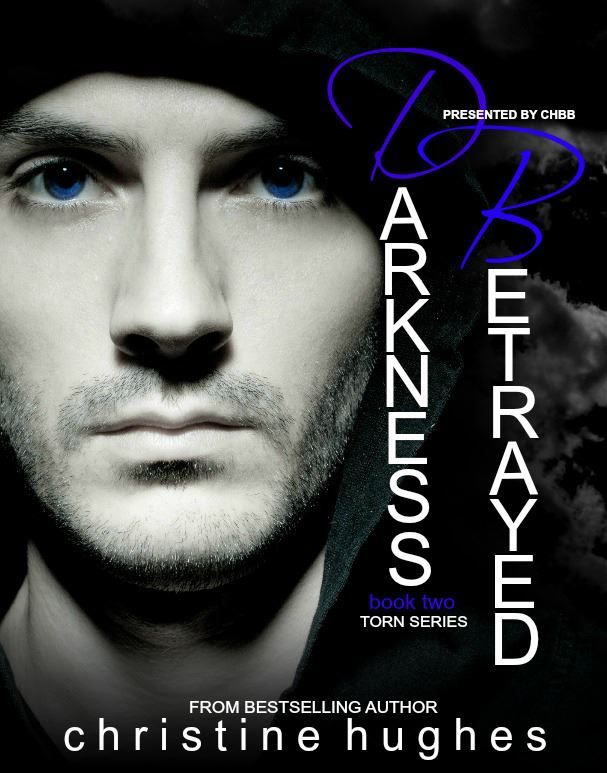 Even the devil was once an angel...
Still reeling from a devastating betrayal, and a shaky relationship with Ethan, her Guardian Angel, Samantha reluctantly seeks comfort with Damien - the original fallen, the devil whispered about and part of the original deception of Adam and Eve. She learns of the real reason for his existence – a sad and twisted reason that would force even the most ardent Bible thumpers to show sympathy. He agrees to help Samantha fight Sebastian but what she doesn't know is there is a price for Damien's involvement. A price she would never allow. The only problem is, she isn't the one making the sale.
Title: Darkness Betrayed (Torn #2)
Author: Christine Hughes
Expected Publication Date: September 27, 2013
"Lucas isn't healing as quickly as Sebastian would like. That much I know."
"You already said that. What
do you know about Lucas?"
walakai cocked his grotesque head to the side. "His betrayal is the only thing you focus on?"
"It's the only thing I can focus on." Rage built up and threatened to break free.
he replied hastily. "You haven't let me finish. I do have a message from one who is in Sebastian's circle. One you've never met but have heard about. One who is tired of Sebastian's ways. One who wants to return to how it's supposed to be."
"And who is the 'one' you speak of?"
"He is the one who has sent me to de
Ethan stepped closer, the tip of his sword grazing the back of Malakai. Eyes wide
Vibrations ran through me. "Stop talking in circles! Give the message you were sent to give or I will kill you. You have no place here."
"Ahh." Malakai's eyes narrowed. "I told him you wouldn't listen. I told him you were not ready to hear his proposal. You are still…immature."
y look to me like whoever had sent him had thought any it through. This minion was about to crack under the pressure. I was only too happy to speed up that process.
Arms outstretched, he stepped away. "No. No. I was sent. You
"Enough!" The tip of Ethan's sword pierced the wing of the Exiled. "Go back to whoever sent you. Tell them we don't talk in circles. If you have nothing to tell us, we have nothing to listen to. Our patience is wearing thin."
Malakai's hands flew to his face as he began to shake. Didn't real
l must listen. Death at your hand would be welcomed in light of what I will face if I fail. You must listen. The purest fallen has sent me. He is ready to make a deal with you to overthrow Sebastian and rid the world of him once and for all."
My mind raced as I tried to process the information. Who was the purest fallen?
Ethan whispered and I barely hear him over the din that began to rise around me. "
Damien."
A former Army brat, Christine Hughes moved quite often. She spent much of her time losing herself in books and creating stories about many of the people she'd met. Falling in love with literature was easy for her and she majored in English while attending college in New Jersey. Not sure where her love of reading and writing fit, she became a middle school English teacher. After nine years of teaching others to appreciate literature, she decided to take the plunge and write her first novel. Now at home focusing on making writing her new career, she spends her time creating characters and plot points instead of grading papers.