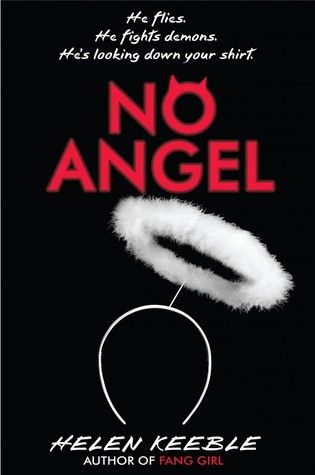 No Angel by Helen Keeble
Published by: HarperTeen
Publication date:

October 8th 2013


Genres: Paranormal, Young Adult
Rafael Angelos just got handed the greatest gift any teenage boy could ever dream of. Upon arriving at his new boarding school for senior year, he discovered that he is the ONLY male student. But what should have been a godsend isn't exactly heaven on Earth.

Raffi's about to learn that St. Mary's is actually a hub for demons-and that he was summoned to the school by someone expecting him to save the day. Raffi knows he's no angel-but it's pretty hard to deny that there's some higher plan at work when he wakes up one morning to discover a glowing circle around his head.

Helen Keeble's debut novel, Fang Girl, has been praised for its pitch-perfect teen voice, and VOYA called it "refreshing and reminiscent of Louise Rennison's Confessions of Georgia Nicolson series." No Angel brings you angels and demons like you've never seen them-complete with the wry humor of Vladimir Tod, sinfully irreverent romance, and some hilariously demonic teenage dilemmas.
Barnes and Noble
---
Helen Keeble
Angels versus demons, good versus evil… should be a no-brainer, shouldn't it? But when it comes to dating, it's surprisingly difficult to choose whether to stay in the light or fall to darkness. Allow me to present the evidence:
ANGELS
Noble beings of pure good

Will protect you from forces of evil

Big fluffy wings, excellent for snuggling, romantic moonlight flights, and saving you when you fall off cliffs/skyscrapers/tall balconies (something which peculiarly seems to occur rather frequently around angels)

Thanks to halo, makes a handy portable light source that never needs batteries

If your guardian angel, will know everything about you
If your guardian angel, will known everything about you

Probably sworn to celibacy

Generally have difficulty with the whole "emotions" thing

Typically unable to maintain a healthy work/life balance (Holy Warrior Of God being something of a 24/7 career)
DEMONS
Really rock the metal/Goth look

Will encourage you to sinful but oh-so-enjoyable acts

Seem to be allergic to wearing shirts

Black wings go with everything

Can open your beer bottles with horns
Unfortunately, however, going on a blind date with a demon could be hazardous to your health. A
quick Google image search I just did
highly detailed and scientific survey has revealed that in today's popular culture, only about 25% of demons look like the fetching gentleman pictured above.
The other 75% look something like this:
Great if you like the big, strong, silent type
Not so great if you don't like being dismembered and eaten alive

Will break your heart. Also your liver, spleen, and skull

Likely to forget your birthday
… but alas, even a blind date with an angel isn't a safe bet. Look back in history at Christian angelology, and you'll find that it's not all hot dudes with wings and protective impulses. There are also these guys:
FINAL VERDICT: Unless you want to either get your face eaten, or have a fetish for flaming wheels covered in eyes and/or four-headed winged monsters, stick to dating humans.
Helen Keeble is not, and never has been, a vampire. She has however been a teenager. She grew up partly in America and partly in England, which has left her with an unidentifiable accent and a fondness for peanut butter crackers washed down with a nice cup of tea. She now lives in West Sussex, England, with her husband, daughter, two cats, and a variable number of fish. To the best of her knowledge, none of the fish are undead.

Her first novel, a YA vampire comedy called FANG GIRL, is out 11th Sept 2012, from HarperTeen.

She also has another YA paranormal comedy novel (provisionally titled NO ANGEL) scheduled for Sept 2013.
Author Links:
a Rafflecopter giveaway