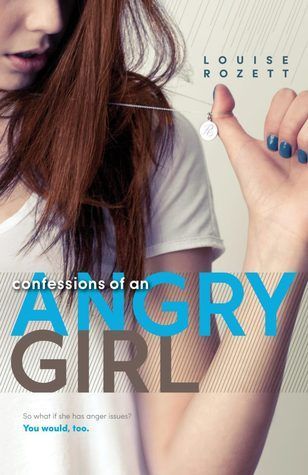 Blurb from Goodreads:
Rose Zarelli, self-proclaimed word geek and angry girl, has some confessions to make…
1. I'm livid all the time. Why? My dad died. My mom barely talks. My brother abandoned us. I think I'm allowed to be irate, don't you?
2. I make people furious regularly. Want an example? I kissed Jamie Forta, a badass guy who might be dating a cheerleader. She is nowenraged and out for blood. Mine.
3. High school might as well be Mars. My best friend has been replaced by an alien, and I see red all the time. (Mars is red and "seeing red" means being angry—get it?)
Here are some other vocab words that describe my life: Inadequate. Insufferable. Intolerable.
(Don't know what they mean? Look them up yourself.)
(Sorry. That was rude.)




Maia's Review:
This book was indirectly given to me by an editor of Harlequin books. This did not at all influence my opinion of the novel, it was amazing and I didn't need anything but the book to figure that out. I loved right from the beginning. The cover is perfect. It fits the book as if it were Cinderella's glass slippers. It is narrated by freshman Rose Zarelli. She is a great character and I can relate entirely to her. During most parts of the book, I couldn't help but wonder if she stole my brain or something, I love the way she is portrayed. Her best friend Tracy does make some stupid mistakes to try to fit in with the rest of the students, and Rose tries to rationalize with her. Unfortunately, Tracy does not listen, and often becomes upset with Rose. The plot flowed nicely. It is mostly Rose describing her life and how confusing it is and I entirely understand. The writing was excellent. I like when books hook me in right from the very beginning, and this is exactly the effect I had with this one. I also love the use of vocabulary words at the beginning of every chapter, hinting at what it would be about. I would give this book five stars.
i think it is garbage but is it actually? thanks
Louise Rozett is an author, a playwright, and a recovering performer. She made her YA debut with Confessions of an Angry Girl, published by Harlequin Teen. The next book in the series, Confessions of an Almost-Girlfriend, is due out June 2013. She lives with her 120-pound Bernese Mountain dog Lester (named after Lester Freamon from THE WIRE, of course) in one of the world's greatest literary meccas, Brooklyn...and also in sunny Los Angeles. (Being bi-coastal is fun!) Visit
www.Louiserozett.com
for more info.