Today I'm really excited to be taking part in J.A. Belfield's tour for her latest book in the Holloway Pack series:
Caged (Holloway Pack #4)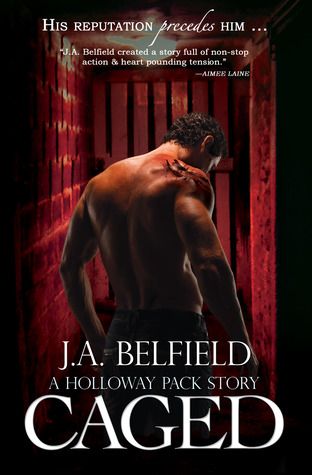 If the meek can become deadly, the strongest can be weak.
For Ethan Holloway, his mission to find a missing werewolf should be simple. Crack a few heads, bust a few chops and the solution always reveals itself. Always.
Not this time.
Ethan's reputation precedes him, and because it does, someone is ready. Waiting. Unbeknownst to Ethan, he's about to go down. Hard. Against a foe he never suspected and in a world he never imagined could be real.
What awaits Ethan is a fight not only for his reputation, but also his pack, his female, and his life. If he survives, damage control will become priority number one.
If he survives.
Because even Ethan's not sure he's strong enough to take on an entire race all by himself.
Especially one hell bent on exposing who and what he is in the name of sport
Title: Caged (Holloway Pack #3)
Author: J.A. Belfield
Publisher: J. Taylor Publishing
Publication Date: August 5, 2013
Today, I'm excited to welcome Julie to the blog to do a guest post. I wanted to know why Julie chose wolves...so let's hear what she had to say! Welcome Julie!
Why Wolves?
It's a question I get asked a lot. So, I'm going to try and portray the why of my fascination with a simple exercise. Here goes.
You're no longer on two legs, you're on four, and the thick coat of your fur is visible in your periphery. So, too, is the dark and familiar coat of your mate. You don't have to turn to know it's him. You just know it. You feel it. All the way through to your soul with every essence of your being.
Now imagine running alongside your mate. Again, you don't have to turn to know he's there. The brush of his shoulder against your flank. The blast of his breath against your fur. The very presence of him. All of those tell you he's where he belongs. All whilst the wind batters your coat as the familiar flavours of
your
forest call you forth, the ground gives with the tiniest of crunches beneath your paws, and the shock of each landing vibrates through your muscles, sending minute shockwaves the length of your spine and reminding you what it's like to feel
alive
.
And with a sharp veer left that your mate matches with an explained unity, your prey bounds ahead in a frantic attempt to get away, and one singular inhalation is enough to cause tremors within you because the hunger for that creature is akin to the tiny ripples that build and build on the path to sensual release.
The capture of that creature then becomes the pinnacle. The apex, upon which a soul stands, exposed at their most vulnerable with no turning back, right before they plummet into the abyss of spiritual pleasure.
And then the first trickle of blood across your tongue is the explosion of fireworks that leaves you groaning, panting … sated, all whilst the heat of your mate provides a blanket of protection, a sense of safety, and enables you to truly explore who you are.
Try it. With no inhibitions. How does it make you feel?
Welcome to my dreams.
Thanks so much for stopping by today, Julie! It was so great having you here!
One day, a character and scene popped into J. A. Belfield's head, and she started controlling the little people inside her imagination, as though she were the puppet master and they her toys. Questions arose: What would happen if …? How would they react if …? Who would they meet if …? Before she knew it, a singular scene had become an entire movie. The characters she controlled began to hold conversations. Their actions reflected the personalities she bestowed upon them. Within no time, they had a life, a lover, a foe, family … they had Become.
One day, she wrote down her thoughts. She's yet to stop.
J. A. Belfield lives in Solihull, England, with her husband, two children, three cats and a dog. She writes paranormal romance, with a second love for urban fantasy
J.A. Belfield Blog
|
Bookaroo-Ju Blog
|
Twitter
|
Facebook
|
Website
During the Caged Tour, Blue Moon: Holloway Pack 2 is on SALE!
Grab YOUR copy for only $.99 at the following stores:
a Rafflecopter giveaway