Welcome to a Cover Contessa exclusive spotlight!
Today we are promoting Karen Luellen's book
Winter's Awakening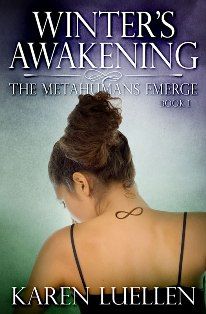 Assumptions: I am a normal human being. I'm an average fifteen-year-old. I have always lived here, and I always will. This year will be like every other. But I'll soon find out... none of these assumptions are true.
Title: Winter's Awakening: The Metahuman's Emerge (Winter's Saga #1)
Author: Karen Luellen
Publication Date: October 1, 2011
I live in North Texas with my husband, our four children, two cats, one dog and a tank full of fish. When I'm not busy writing the next book in my Winter's Saga, I can be found surrounded by a gaggle of kids in my classroom, buried under piles of unmatched socks doing laundry or getting wrinkled fingers washing dishes. I've always been a storyteller, much to my family's chagrin. My father, now a retired colonel, would tell me to stop telling "dinosaur stories." Apparently, he just wanted to be briefed. My mom, a psychologist, probably read too much into my stories--especially the one when I was two-years-old and wanted to marry a plant. As always, I'm happy and humbled to be able to share my love of writing stories with you all. Thanks for reading
a Rafflecopter giveaway