(Click above for a list of participating blogs)
Welcome to the second annual INDIE-pendence Day Celebration hosted by The Indelibles.
Today, I am celebrating author Susan Kaye Quinn and her incredible books!
Recently, Sue decided to branch out into the world of serial writing and introduced us to an AMAZING new series: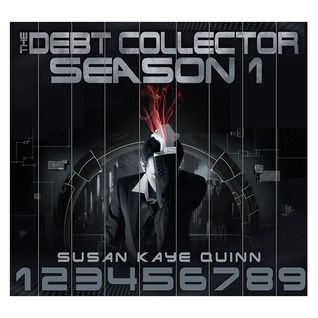 What's your life worth on the open market? A debt collector can tell you precisely. Lirium plays the part of the grim reaper well, with his dark trenchcoat, jackboots, and the black marks on his soul that every debt collector carries. He's just in it for his cut, the ten percent of the life energy he collects before he transfers it on to the high potentials, the people who will make the world a better place with their brains, their work, and their lives. That hit of life energy, a bottle of vodka, and a visit from one of Madam Anastazja's sex workers keep him alive, stable, and mostly sane... until he collects again. But when his recovery ritual is disrupted by a sex worker who isn't what she seems, he has to choose between doing an illegal hit for a girl whose story has more holes than his soul or facing the bottle alone--a dark pit he's not sure he'll be able to climb out of again. This is the print edition of Season One of Debt Collector, and contains all nine of the episodes originally published serially on ebook. This dark and gritty future-noir is about a world where your life-worth is tabulated on the open market and going into debt risks a lot more than your credit rating. For more about the Debt Collector serial, see DebtCollectorSeries.com.
If any of you know me, you know how much I absolutely LOVED this serial. I bought and read every episode the day it came out (with the exception of the first one which I got as an ARC from Sue and the final one which I got an early copy of the day before it released). And I just received my signed paperback of the first season, which I held to my chest and loved for quite a long time before storing it safely in my bookshelf! I am absolutely in love with her character Lirium, because he's hot and handsome and just downright smexy. Plus he's just an amazing person: caring, concerned, passionate. And I love how he changes throughout this serial, taking us through so many emotions you are turned up-side-down! You can read my review on Goodreads, or here on the blog. All I can say is that Sue can write! This woman has such an amazing way with words. Such a gift that I don't think she could put out anything that does not
ring true. And, while this post is about The Debt Collector serial, I would be remiss if I did not mention her Mindjack series, a YA Sci-fi/dystopian which is totally and completely out of this world! So, if you have not picked up any of Sue's books, what are you waiting for? All buy links are below.
Susan Kaye Quinn grew up in California, where she wrote snippets of stories and passed them to her friends during class. Her teachers pretended not to notice and only confiscated her stories a couple times.
Susan left writing behind to pursue a bunch of engineering degrees, but she was drawn back to writing by an irresistible urge to share her stories with her niece, her kids, and all the wonderful friends she's met along the way.
She doesn't have to sneak her notes anymore, which is too bad.
Susan writes from the Chicago suburbs with her three boys, two cats, and one husband. Which, it turns out, is exactly as a much as she can handle.