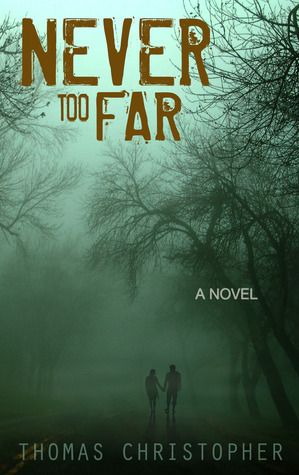 A harrowing story of love and survival. In a future of scarce resources, where the possession of gas and diesel is punishable by death, a teenage boy and a pregnant girl must save their impoverished family. They risk their lives on a terrifying journey to sell stolen fuel on the black market.
Never Too Far by Thomas Christopher



Publication date: May 10th 2012
Excerpt:
Joe turned and ran back into the gully, but he didn't get very far. A sudden blast of wind shoved him to the ground. Flat on his face, he heard the wind whistling and screeching past his ears. When he lifted his head, he couldn't see the pregnant girl anymore. All the dust whirled and whipped into a blinding black blizzard. He thought for sure she'd gotten snatched up in the dust storm. The wind lashed at his face. He went to call out to her, but he didn't know what to say because he didn't know her name. And even if he did, his voice would've gotten lost in the snarling wind. Nevertheless, he had to find her.
Thomas Christopher grew up in Iowa. He received his MFA from Western Michigan University. His short stories have appeared in The Louisville Review, The MacGuffin, Redivider, and Cooweescoowee.
He was also awarded an Irving S. Gilmore Emerging Artist Grant and was a finalist for the Matthew Clark Prize in Fiction. He lives in Wisconsin with his wife and son.