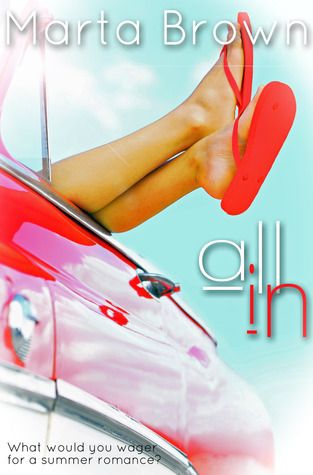 On the picturesque island of Martha's Vineyard, there are two kinds of residents. Locals and Stays.

Local boy, Lane McCarthy, plans on spending his summer working at the country club to save money for college in the fall, while summer stay, Ashley Whitmore, and her elite group of friends are only there to play.

As the summer heat goes up on the island, so does the ante, when both Lane and Ashley must decide what they're willing to wager in order to follow their dreams… and their hearts.

With stakes as high as the surf, and hopes as high as the midday sun, will they risk everything and go all in?
All In by Marta Brown
Publication date: May 28th 2013
Genre: YA Contemporary Romance
Excerpt:
"You got a jacket in there too?" Lane asks as I pull off my heels and swap them with a pair of flip flops.
"I don't, but I'm fine," I say and then as if to contradict myself my skin explodes with goose bumps.
Lane laughs then walks to his car and pulls out the light blue zip up hooded sweatshirt he was wearing at the bluffs from his back seat. He holds it open so I can stick my arms in and when I do his intoxicating smell surrounds me. Sea salt, sunshine and boy.
"Better?" he asks, stepping in front of me again and rubbing his hands up and down my now covered arms to help warm me up.
Lane's hands stop moving but stay wrapped around my arms, and the way he's looking at me makes another shiver go through my body.
"So, where are we going?"
"Now that's a surprise," he says with a wink before he takes off his tie and tosses it in the back seat of his car. He un-tucks his crisp white dress shirt then undoes the first few buttons, revealing a baby blue tee shirt underneath that matches his eyes. After rolling up his sleeves he instantly looks more relaxed, and so hot I bite my lip.
He opens the passenger side door and helps me in before making his way around the front of the car and leaping into the driver's side seat with a wink. I'm not sure if he's trying to kill me, or impress me, but either way, he's doing a fine job at both.
"Oh, and one last thing." He leans forward and cups my face in his hands with a playful grin on his face. I suck in a breath as my heart hammers in my chest. Is he going to kiss me? I let my eyes flutter closed when I feel his breath touch my skin. His soft lips press against my cheek and linger for a moment before he pulls away.
"What was that for?" I ask quietly.
"For giving me a do-over," he says with a boyish smile.
Yep. He's trying to kill me
Marta Brown grew up in the Pacific Northwest and was a teenager when Doc Martens, Pearl Jam and flannel were the norm and Dylan loved Kelly forever (Beverly Hills, 90210 shout out).
a Rafflecopter giveaway