Welcome to The Cover Contessa's blog stop for Jennifer Allis Provost's book:
Copper Girl (Copper Girl #1)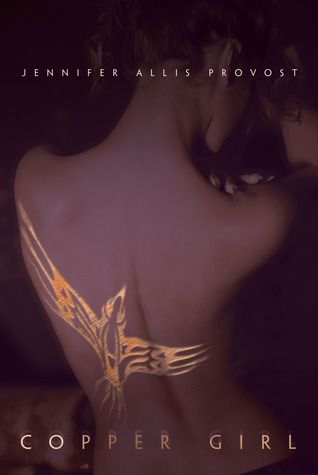 Sara had always been careful.
She never spoke of magic, never associated with those suspected of handling magic, never thought of magic, and never, ever, let anyone see her mark. After all, the last thing she wanted was to end up missing, like her father and brother.
Then, a silver elf pushed his way into Sara's dream, and her life became anything but ordinary.
Title: Copper Girl (Copper Girl, #1)
Publisher: Spencer Hill Press
Expected Publication Date: June 25, 2013
Today, I have the honor of welcoming Jennifer for an interview! I'm very excited to have her here on the blog. I was fortunate enough to get to meet her when I went to BEA this year!
She is totally and completely awesome. We talked about shoes, and books and other random things that were just plain old fun! And if you ever have a chance to meet her, run and do it!
So let's hear what she had to say in response to my questions, shall we?
Hi Jenn, welcome to The Cover Contessa! So great to have you with us today to talk about your amazing book Copper Girl.
Tell us, how did you come up with the name?
Fun fact:
Copper Girl's
working title was
Dreamwalker,
but as the story took shape our main character, Sara, became much more defined by her status as a metal Elemental than as a dreamwalker. And, since Sara's metal is copper, thus the title was born.
So your book is a bit of dystopian, a bit of fantasy, dare I say some urban stuff thrown in there? Was this your plan all along?
Not at all! In fact, I set out to write a YA paranormal, but it just wasn't coming together. So I added Sara's boring office job, more romance with Micah, and made it a paranormal romance.
And, that didn't work either.
For the third rewrite, I added the dystopian elements, and Sara's missing father and brother. After that, the story really came together.
Tell us a bit about your main character, Sara. Is she based on anyone you know?
Sara has aspects of a few different people, but she's not based on any one specific person. The initial concept for her was born of those office workers' wallowing in ennui, wondering why they were put on this earth just to stare at soothing gray walls and click-clack away before our dual monitors. The difference between Sara and them? She found the courage to change things.
Now that I know your characters a bit better, I wonder about who would play them if you had to cast them in a movie. Any ideas for us?
You know, I have no idea who would play Sara. I have such a definite picture of her in my mind, and I can't find a single actress that looks like her! Christina Hendricks, maybe, or Lily Collins? As for the rest, I can see Sara's brother, Max, portrayed by Mark Wahlberg; her sister, Sadie, by Emma Watson; and her best friend, Juliana, by a young Elizabeth Taylor. And Micah? David Bowie.
What has been the most extraordinary part of writing a book that has your very own name attached to it?
When that first printer's proof showed up in the mail! I mean, it was REAL!
Did you have any say in the cover design of your book? Tell us a bit about what it represents for you.
My cover was designed by the awesome Lisa Amowitz. I wanted Sara's mark – a copper raven - on the cover, and Lisa took my suggestions and ran with them. She created an image that's both sexy and intriguing, like Sara herself. I couldn't be happier with the cover.
What was your inspiration for the story behind this book?
Just like Sara, I used to work in an over-air conditioned office, and I would spend my lunch break outside, warming up. There was this weird tree on the side of the parking lot that was basically two full-grown pines twisted together. I started wondering if that tree was the entrance to the Otherworld (yeah, that air conditioning apparently gave my brain frostbite), and the story grew from there.
I love that the book is a series. Tell us, how many books do you intend to write?
There will be three more –
Copper Ravens, Copper Veins,
and
Copper Princess
– and a spinoff duology featuring Juliana and a secret love interest  The working titles of the duology are
Redemption
and
Salvation
.
If you could have one magical power what would it be?
Making coffee appear out of thin air?
That
would be useful!
After the Copper Girl series, what do you have in store for us?
I'm currently working on a standalone set in Scotland, which features two siblings, Christopher and Karina, running away from their problems in the US. Then, Karina accidentally frees a man who was held captive in the Seelie Court for three hundred years, and chaos ensues. I'm also working on re-releasing my epic fantasy series in 2014.
Thanks so much for stopping by the blog today, it's been so great having you here to learn more about you and your book!
Thank you for having me!
Jennifer Allis Provost is a native New Englander who lives in a sprawling colonial along with her beautiful and precocious twins, a dog, two birds, three cats, and a wonderful husband who never forgets to buy ice cream. As a child, she read anything and everything she could get her hands on, including a set of encyclopedias, but fantasy was always her favorite. She spends her days drinking vast amounts of coffee, arguing with her computer, and avoiding any and all domestic behavior.
And the wonderful Spencer Hill Press is offering a giveaway with this tour! So enter to win via the Rafflecopter below!
a Rafflecopter giveaway