Today we welcome author Gregg Olsen for an interview.
Do you know Gregg's books? Well there are quite a few. So I'll just give you a taste of the ones I have read!
Crime lives--and dies--in the deceptively picture-perfect town of Port Gamble (aka "Empty Coffin"), Washington. Evil lurks and strange things happen--and 15-year-olds Hayley and Taylor Ryan secretly use their wits and their telepathic "twin-sense" to uncover the truth about the town's victims and culprits.
Envy
, the series debut, involves the mysterious death of the twins' old friend, Katelyn. Was it murder? Suicide? An accident? Hayley and Taylor are determined to find out--and as they investigate, they stumble upon a dark truth that is far more disturbing than they ever could have imagined
In this action-packed thriller sequel to
Envy
, foreign exchange student Olivia Grant is stabbed to death after a party--and the prime suspect is her best friend. As twins Hayley and Taylor Ryan get pulled into the aftermath of this Amanda Knox-like crime, they realize nothing is what it seems. Could it be betrayal of the ultimate kind?
Betrayal
features real-life crime-solving techniques, heart-stopping suspense, plenty of red herrings, hard-hitting ethical questions, and information about the Amanda Knox case that inspired the novel. As the crime unravels, so does the twins' past…and they must face off against a family member who may unexpectedly have carried out the worst betrayal of all.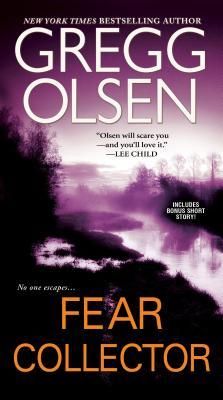 Ted Bundy. America's most notorious serial killer. For two women, he is the ultimate obsession. One is a cop whose sister may have been one of Bundy's victims. The other is a deranged groupie who corresponded with Bundy in prison--and raised her son to finish what Bundy started. To charm and seduce innocent girls. To kidnap and brutalize more women than any serial killer in history. And to lure one obsessed cop into a trap as sick and demented as Bundy himself. . .
So let's hear what Gregg has to say, shall we?
Did you always know you wanted to be a writer or did you want to be something else?
I think most writers are just born this way. When my mother died a few years ago, I found a bunch of little story books that I made as a child. Even though it would be decades before I had anything published, I think you could trace my roots back to age ten or so. So, yes, always wanted to be a writer.
How long does it take you to write a book from start to finish?
It takes about a year for fiction, longer for nonfiction. One novel came to me in a flash and I had a draft done in a couple of months. One true crime book took four years from start to finish.
How do you come up with themes for your stories?
That's a great question. I really don't come up with themes. I think about the story and the characters and how those things play together in order to solve a problem. Sometimes themes emerge as a natural part of the writing process.
Do you have a schedule of when you write?
Yes. I work mostly at night. I write about two hours or so. I also write on the weekend.
How are you able to balance other aspects of your life with your writing?
There is always the need to remind yourself that while writing is a solitary endeavor, it should not shut out the people that you love. You have to make sure that you can be understanding of your family. They want you to succeed, of course. But they also want to spend time with you. That means doing things that don't involve writing! I have to admit that when I was writing a lot more true crime I made sure that my family vacations were at places where I was researching my story.
What elements do you think make a great story line?
I'm interested in children overcome adversity. I haven't always written those kinds of books, but nothing gets me going like the story of some young person overcoming being victimized by someone evil.
What was the hardest thing about writing a book?
All of it is hard. And all of it is easy. I've written 18 books and I don't know the answer to that question. I do my best to try to get it done. How I get there is never the same.
How many books have you written so far? Do you have a favorite?
18 I think. My favorite is Envy because it brought me a whole new audience. The Deep Dark has my heart because it meant so much to the people I wrote about.
Do you have a favorite character?
Beth Lee from the Empty Coffin Series. I love her humor and I love her angst. She's my favorite.
I have an office in the back of my house – it is the only room that doesn't have a view of the water. I don't want any distractions. I like it quiet and dark.
When deciding on how to publish, what directed you to the route you took?
I grew up when a book was a printed book. I always wanted to create a product that people could own, share, give away. I like that idea of being able to create something tangible like a book. With ebooks, I'm finding out that the story is what's shared. It doesn't have to be physical. I love the way ebooks can reach anyone at the click of a button.
Have you gotten feedback from family about your book(s)? What do they think?
My family, oddly enough, hasn't read all my books. I think my girls have read about four of them and they love Envy and Betrayal the best. They grew up with me writing and to them it was no big deal.
What kinds of things do you like to do outside of writing?
I love to travel. And eat too much.
What kinds of advice would you give to someone who wants to start writing?
Never to give up. Finish something. Start again. Understand that you are I charge of your destiny as a writer now. You can make the effort or live with a bunch of excuses. Believe in yourself. I believe in you.
What is your favorite book? favorite author? Do you have an author that inspired/inspires you to write?
I like mysteries and crime. The authors that made me want to write true crime were Ann Rule and Jack Olsen. Both were very different, but very successful at what they did. I was lucky enough to meet both of them.
Do you have any go to people when writing a book that help you with your story lines as well as editing, beta reading and such?
I have a small circle. Very small. I have a new book that I'm getting ready to release and I have ten beta readers. First time ever. I'm excited to hear what they think. Fingers crossed! I hired a professional editor (Jim Thomsen) and he is great! It takes a lot of help to get a good manuscript ready.
Are you working on anything now?
I have a new true crime book coming later this year (Susan and Josh Powell case) co-authored with writer Rebecca Morris. I also have the first installment of a new YA series coming from Hot Key Books in the UK next year!
Thanks so much for stopping by and chatting with us today, Gregg! It's been great hearing what you have to say! Good luck with those new books!


Throughout his career, Gregg Olsen has demonstrated an ability to create a detailed narrative that offers readers fascinating insights into the lives of people caught in extraordinary circumstances.
A New York Times bestselling author, Olsen has written seven nonfiction books, three novels, and contributed a short story to a collection edited by Lee Child.
The award-winning author has been a guest on dozens of national and local television shows, including educational programs for the History Channel, Learning Channel, and Discovery Channel. He has also appeared on Good Morning America, The Early Show, The Today Show, FOX News; CNN, Anderson Cooper 360, MSNBC, Entertainment Tonight, CBS 48 Hours, Oxygen's Snapped, Court TV's Crier Live, Inside Edition, Extra, Access Hollywood, and A&E's Biography.
In addition to television and radio appearances, the award-winning author has been featured in Redbook, USA Today, People, Salon magazine, Seattle Times, Los Angeles Times and the New York Post.
The Deep Dark was named Idaho Book of the Year by the ILA and Starvation Heights was honored by Washington's Secretary of State for the book's contribution to Washington state history and culture.
Olsen, a Seattle native, lives in Olalla, Washington with his wife, twin daughters, three chickens, Milo (an obedience school dropout cocker spaniel) and Suri (a mini dachshund so spoiled she wears a sweater)